Trojan Weekly Athletics

Families, please join our PTO for their first meeting of the New Year today at 4:15 pm in the elementary flex area.

You can order free COVID-19 tests by mail again Every U.S. household can order one set of 4 at-home tests for free at COVID.gov/tests. Need help placing an order for your at-⁠home tests? Call 800-232-0233 (TTY 888-720-7489).

Trojan Families, Due to the high number of illnesses and students absences, we will be begin Winter Break, Wednesday December 21st to prevent further spread of infection. Today will be the last day of school for this semester. Tonight's K-8 Concert has NOT been cancelled. However if your child is having any flu or cold symptoms, please keep them home. Athletes will receive more information from their coach on practices and games. We want to appreciate your understanding. We want to wish everyone happy holidays and we hope everyone has a restful and fun break!

South Conejos School District is seeking a State and Federal Reporting Administrative Assistant. Candidates must have advanced proficiency in computer processing including excel, strong communication skills, and experience in data entry. Salary schedules can be found on the district's website under Administrative Assistant. Please submit a district application and resume at
https://www.southconejos.com/page/how-to-apply
. (Closes 01/09/2023)

Trojan Weekly Athletics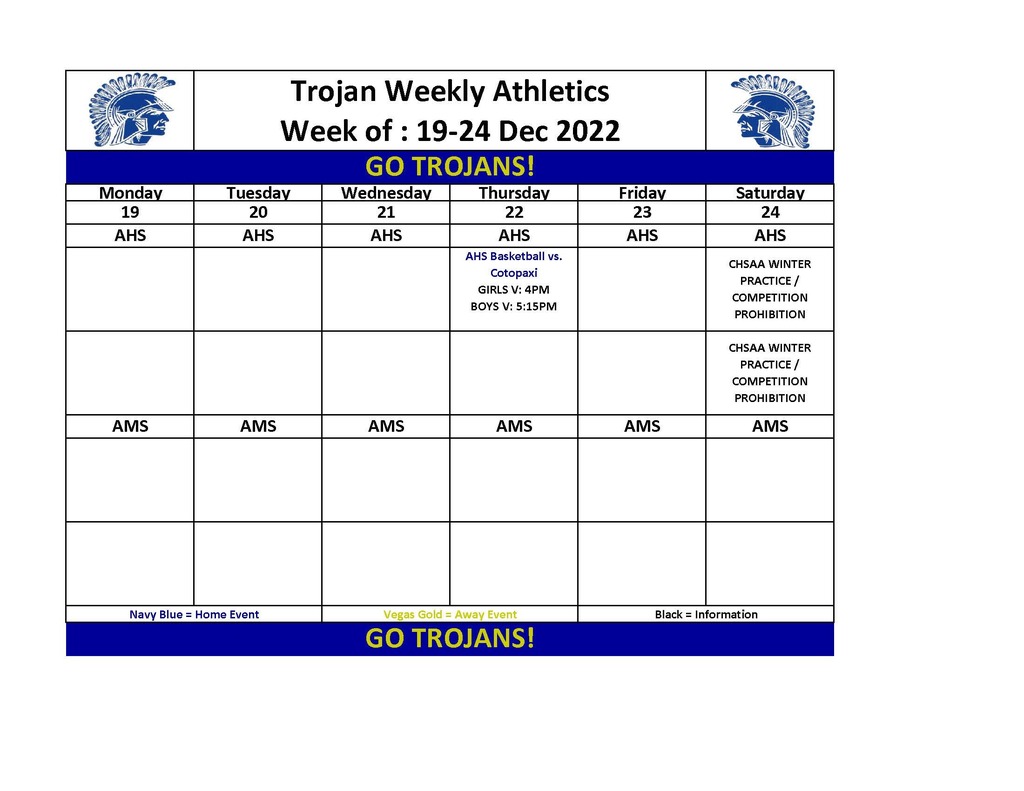 Good Morning Trojan Families, We have lots of fun activities this week and we hope to see you all there! Monday, December 19th at 6:00 pm is our Preschool and Head Start Holiday Concert and Family Night. Tuesday, December 20th at 6:00 pm is our K-8 Holiday Concert. Thursday, December 22nd we have early release at 2:00 pm. We want to wish everyone a fun break full of quality family time and relaxation!
Students and families! Starting tomorrow (12/15) the Booster Club will be selling popcorn for $2 at the end of the school day. Support Booster Club--buy popcorn! Are you a proud family member of a Trojan athlete? Do you have Trojan Pride? We need you on the Antonito Athletic Booster Club! Click the link to join:
https://forms.gle/sqrJueszEUuKADrt7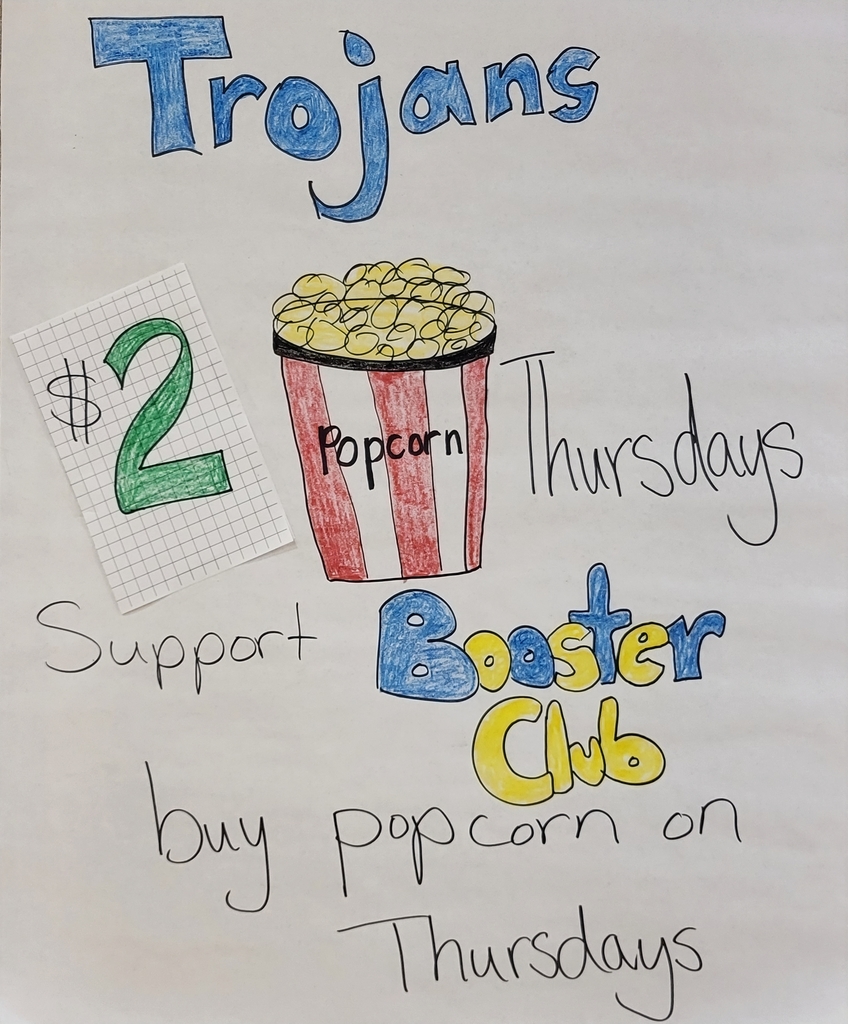 Friday's Senior Movie Night fundraiser has been cancelled.

Good Evening Trojan Families, We will have a two hour delayed start tomorrow morning, December 13th, due to icy road conditions. Student drop off will begin at 9:30 am and classes will begin at 10:00 am. Bus routes will start two hours from their normally scheduled time. Breakfast will be served from 9:30-10:00. Travel safely!

Trojan Weekly Athletics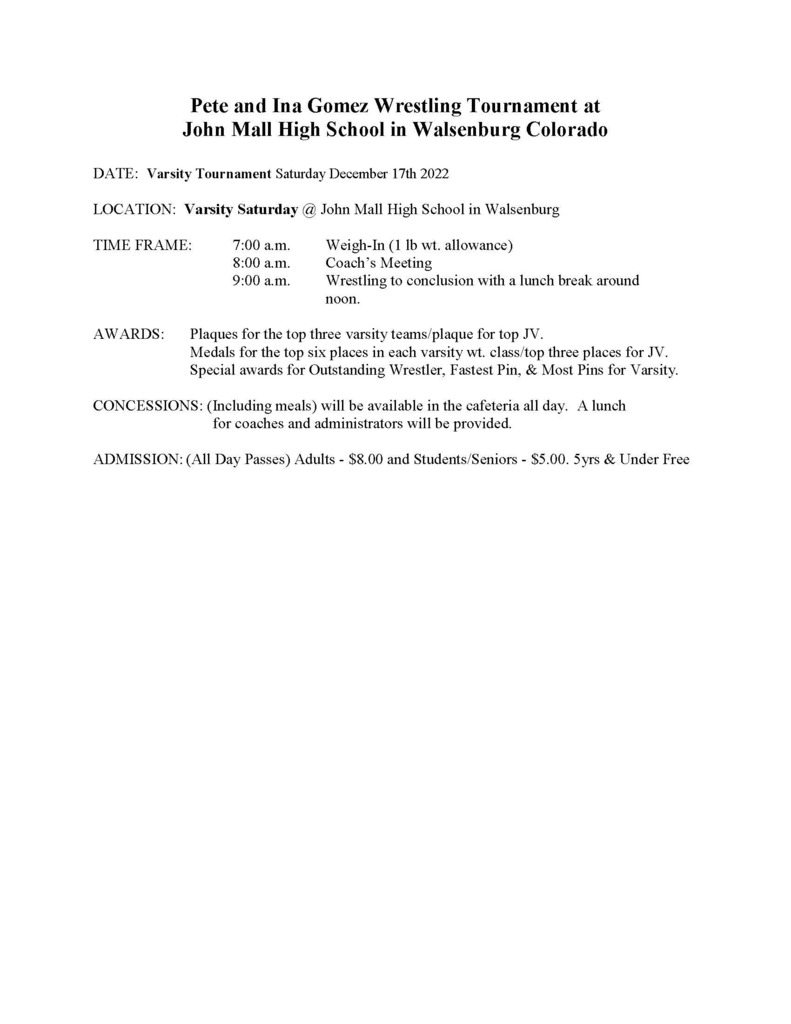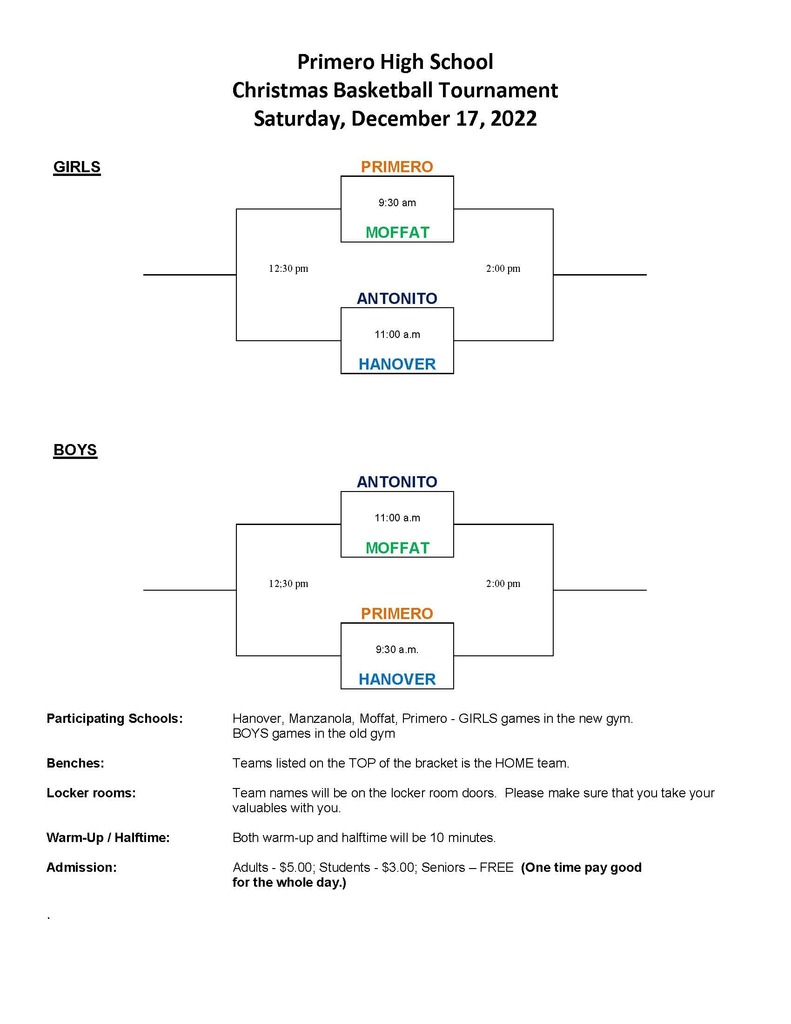 The South Conejos School Board of Education will be conducting a Regular Board Meeting on the 13th day of December 2022, at 6 PM. The meeting will be held in the Secondary Flex area.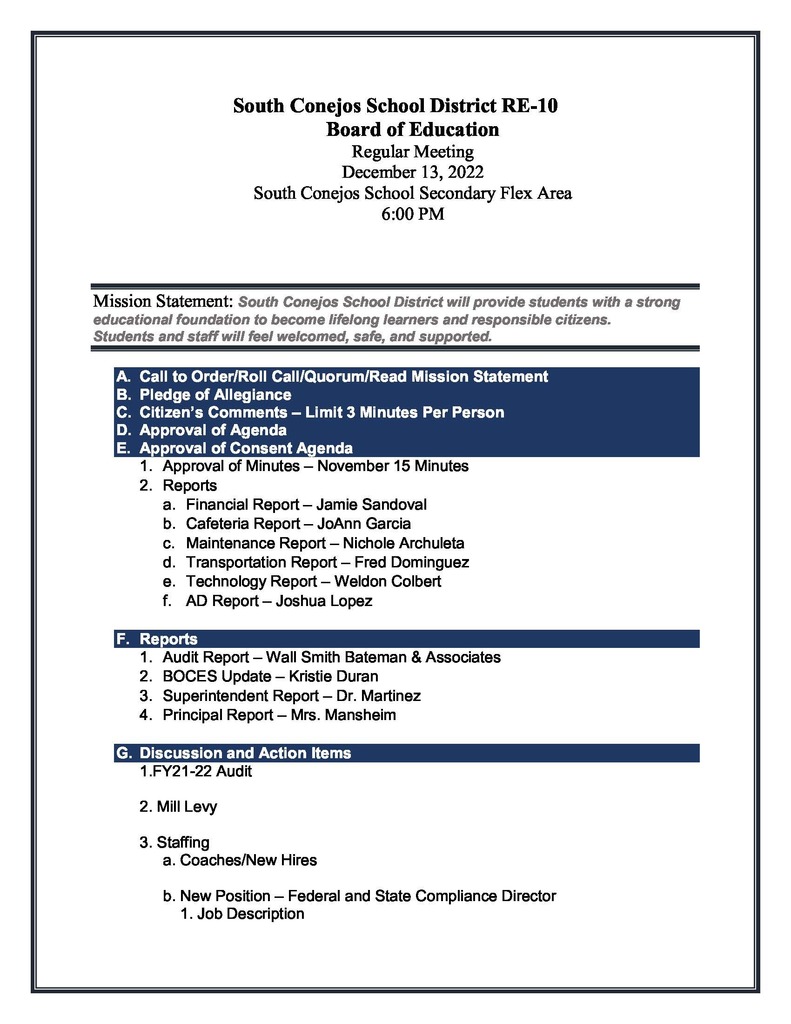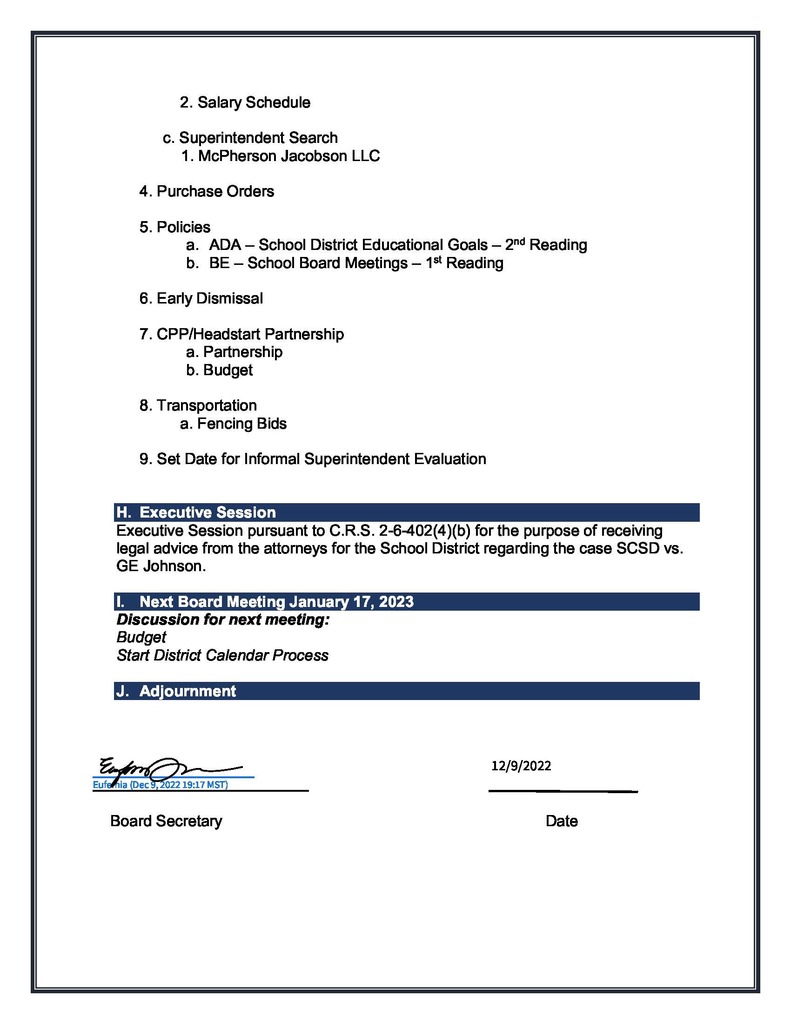 Trojan Weekly Athletics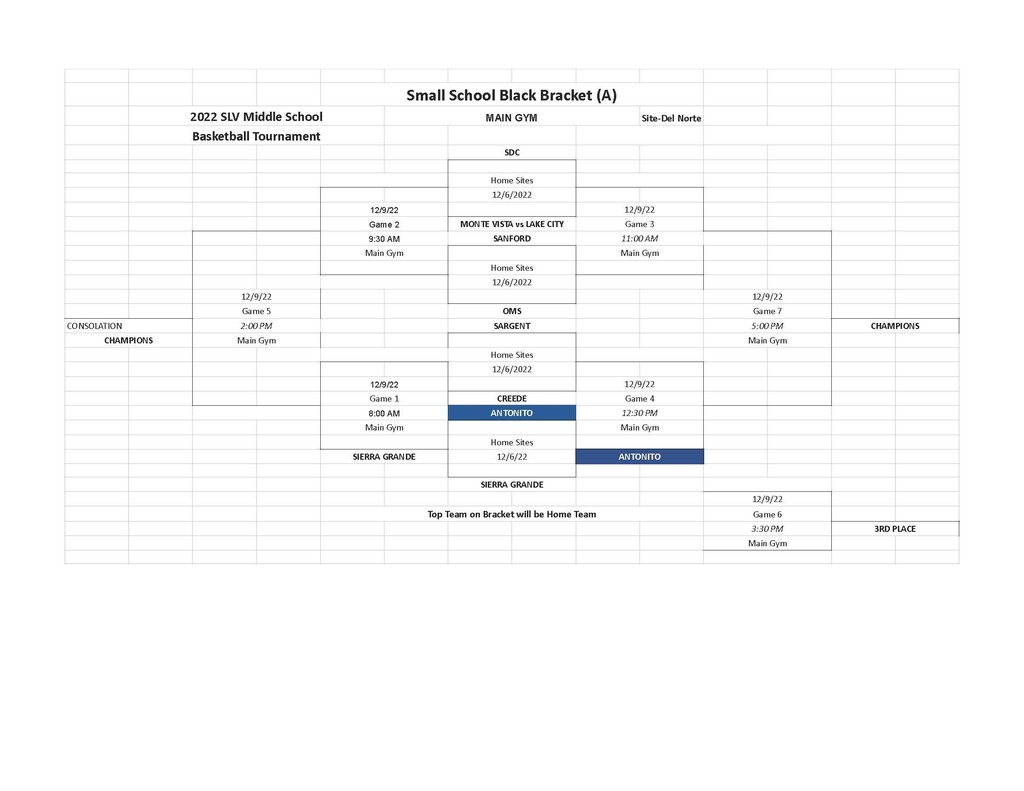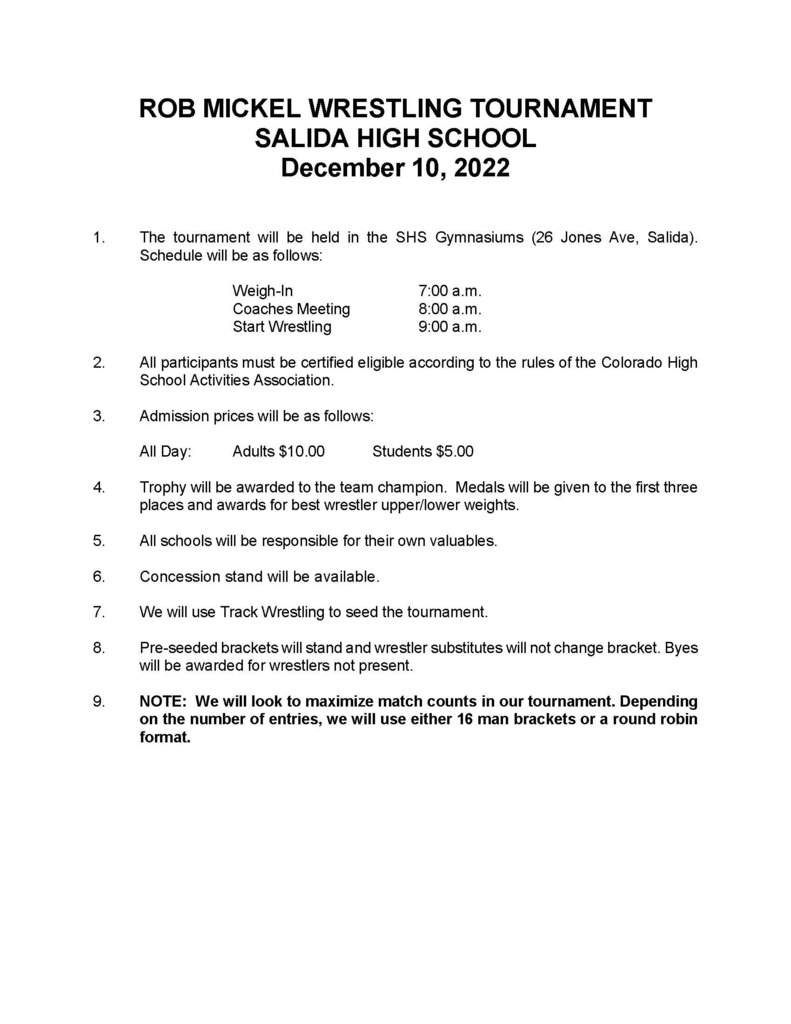 PTO WILL HOLD ITS REGULAR MONTHLY MEETING ON MONDAY, DECEMBER 5th AT 4:15 PM IN THE ELEMENTARY FLEX AREA. PLEASE come and support our interim President, Merona Martinez. Also, help with our last events of the 2022 to honor our students.

Good Morning Trojan Families, This is a reminder that tomorrow November 30th is our monthly teacher PLC early release day. Students will be dismissed at 2:00 pm and normal bus routes will be at that time. Boys & Girls Club will also begin at 2:00 pm. As we move into December, don't forget to download our app to get the most up to date calendar information.

The South Conejos School Board of Education will be attending the CASB Annual Convention on the 30th day of November 2022 thru the 4th of December 2022. The convention will take place at the Broadmoor Hotel in Colorado Springs, Colorado.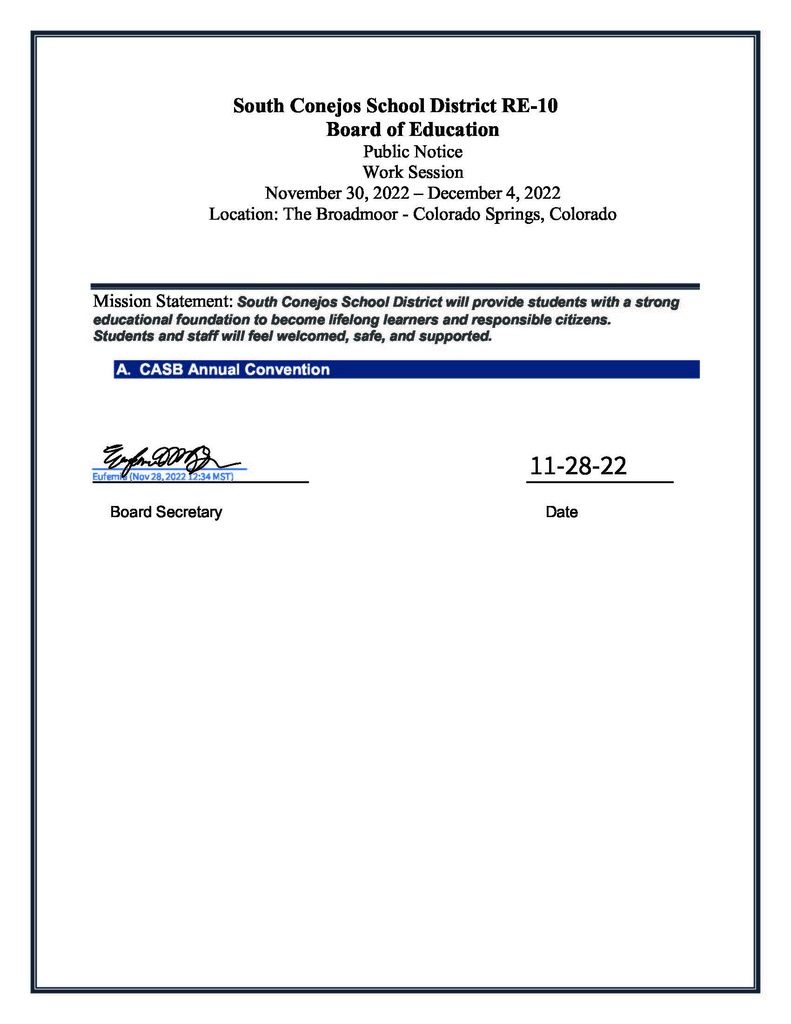 Trojan students join Saddle Club for the first club meeting on Thursday November 17th from 4:30 pm to 6:00 pm.

BOOSTER CLUB MEETING, MONDAY, NOVEMBER 14, 2022 @4:15 pm, IN THE HIGH SCHOOL FLEX AREA Attention Parents, Guardians, Teacher's, and Staff, (pre-k thru 12th grade): WHY JOIN BOOSTER CLUB?? 1) fundraise to support athletic programs (H.S., M.S., PRIMARY), 2) promote school spirit throughout the school and community at large, 3) support student athletes to achieve excellence in academics, athletics and sportsmanship, and 4) promote student of the month pre-k thru 12th grade. LET'S GIVE OUR TROJAN KIDS THE SUPPORT THEY NEED TO TAKE THEIR TROJAN PRIDE TO THE NEXT LEVEL!!!!!!! ATTENTION JUNIOR BOOSTERS Must be 12 years old and up to join, please join your input is very much needed. Your input helps us build the stepping stones for a strong and influential Booster Club. GO TROJANS!!

Conejos County Public Health will be having a Flu and Covid Vaccine Clinic on November 17th from 4 to 6 pm in La Jara.