Our trip to Bayfield for the HS track and field meet has been cancelled due to weather. The MS wrestling tournament at Centauri is still a go. Coaches meeting is at 8am and wrestling is tentatively starting at 9am. Start time could change if there is teams that are late due to the weather. Please travel safe and take your time.

Happy Spring Break Trojan Families! School will resume on March 27th. March 29th will be an early release at 2:00 pm and the rescheduled parent teacher conferences will be from 3:00-7:00 pm that evening. We hope everyone enjoys the week with family!

Students certainly put our staff through the ringer with this basketball game! Everyone have a wonderful break!

Trojan Families, We are currently having a lockdown drill from 9:30 to 10:00 am. We will not be able to allow any visitors in the building or students out of the building during this time. Again, this is a lockdown drill from 9:30 to 10:00 am. We appreciate your cooperation in making this an effective drill.

APPLY NOW for your child to attend South Conejos Preschool next fall. Join us Thursday, April 6 from 2:30-4:00 for in person help with registration! For online registration go to the UPK site, choose "South Conejos School District Preschool" for 4-year-olds and "South Conejos School District" for 3-year-olds. Visit this site for more information:
https://slvupkfamily.my.canva.site/
**We will honor SCSD's July 1 cut-off date, so children will need to be 3- or 4-years-old by July 1 to be accepted.**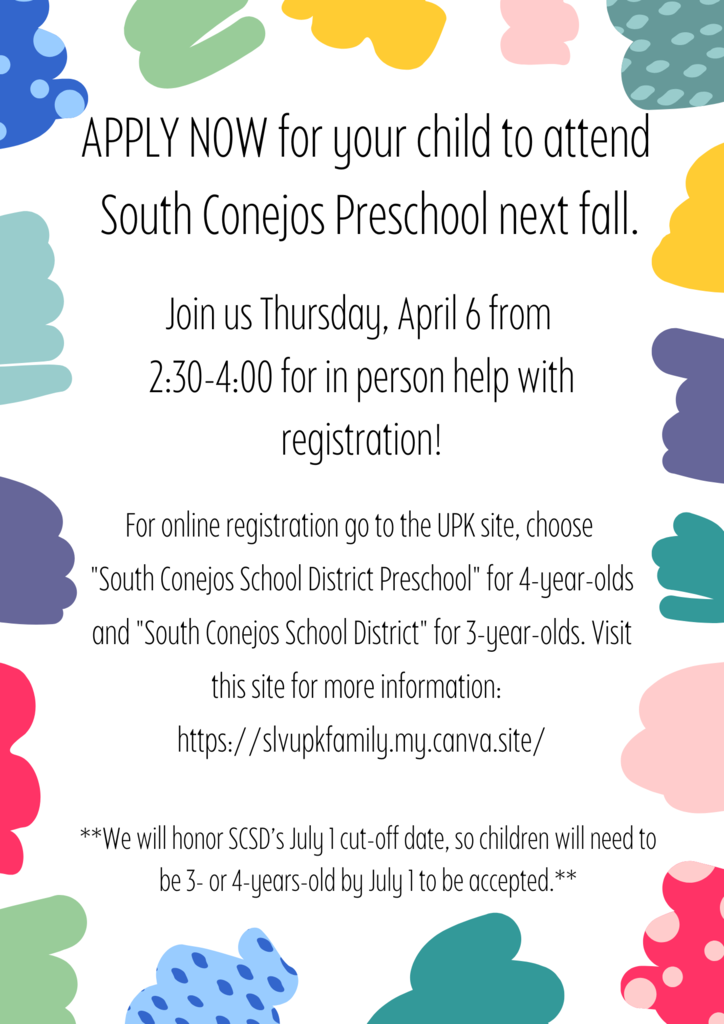 Good morning Trojan families, Miss Tracy's bus route is running late today. Thank you.

Trojan Weekly Athletics Information for those that will be registering their MS wrestler for the RMN Colorado MS Regional Wrestling competition: 1. Deadline to register is March 14th by midnight. 2. Weigh-ins are at the Ski Hi complex on March 17th from 4-6pm. 3. Tournament is on March 18th at the Ski Hi Complex. Headgear is mandatory. 4. Link to register:
https://rmn-events.regfox.com/colorado-regionals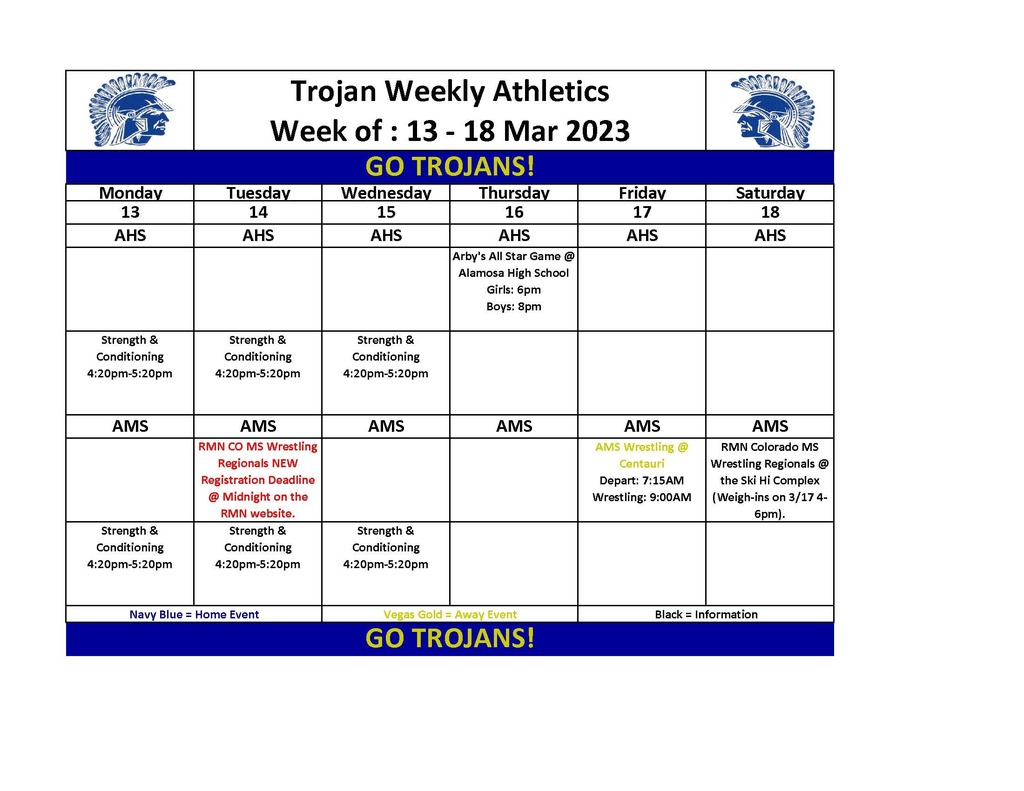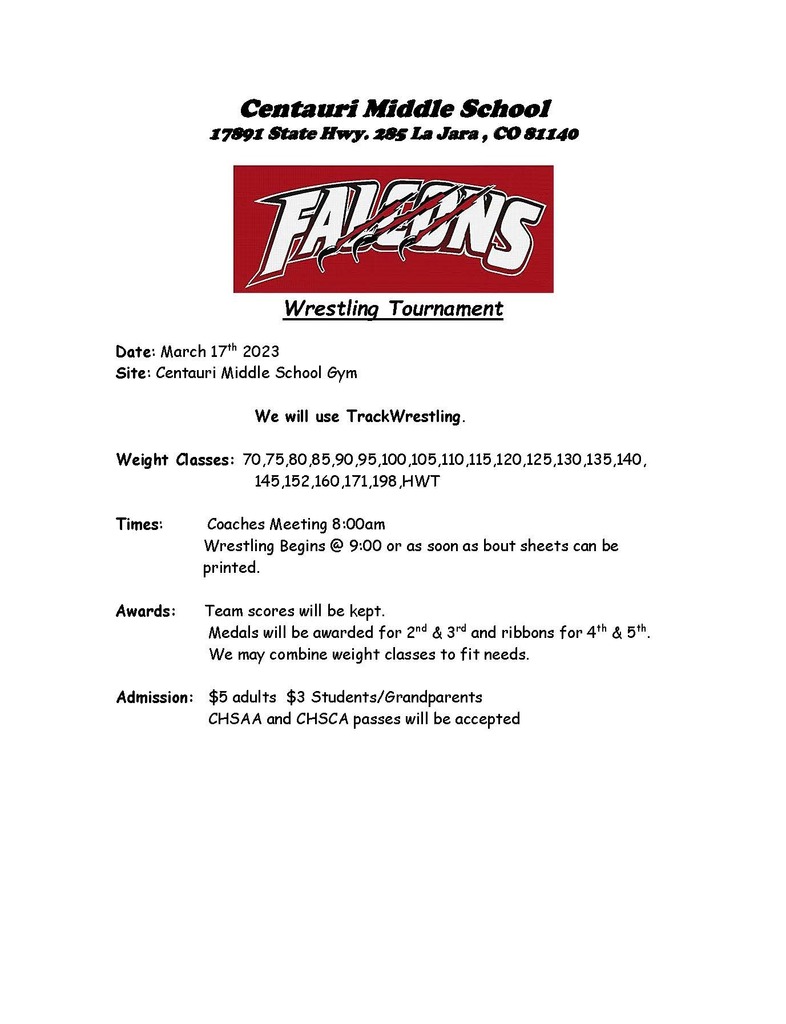 The South Conejos School Board of Education will be conducting a Regular Board Meeting on the 14th day of March 2023, at 6 PM. The meeting will be held in the Secondary Flex area.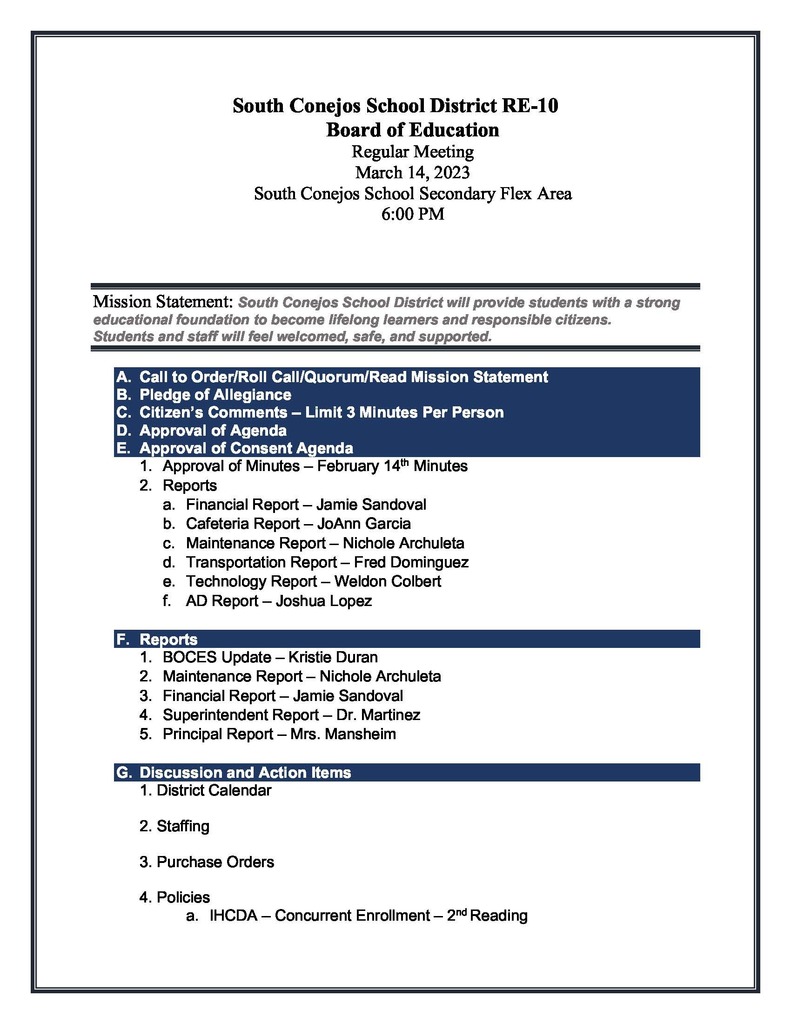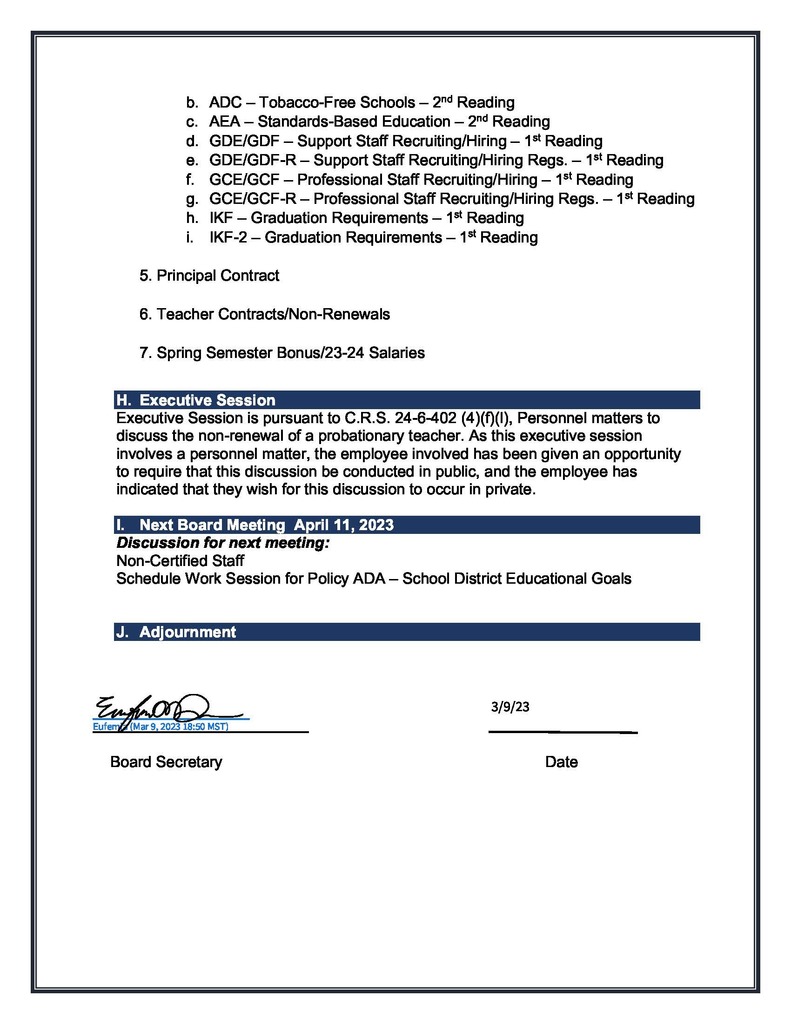 Trojan Weekly Athletics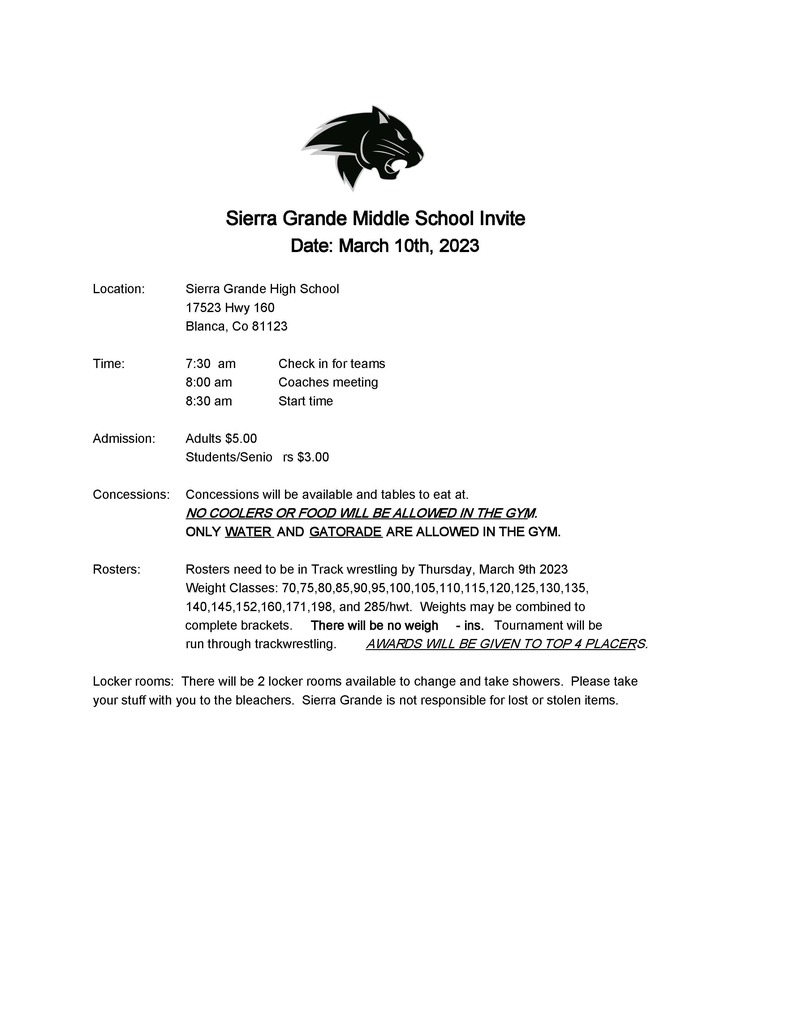 Trojan Weekly Athletics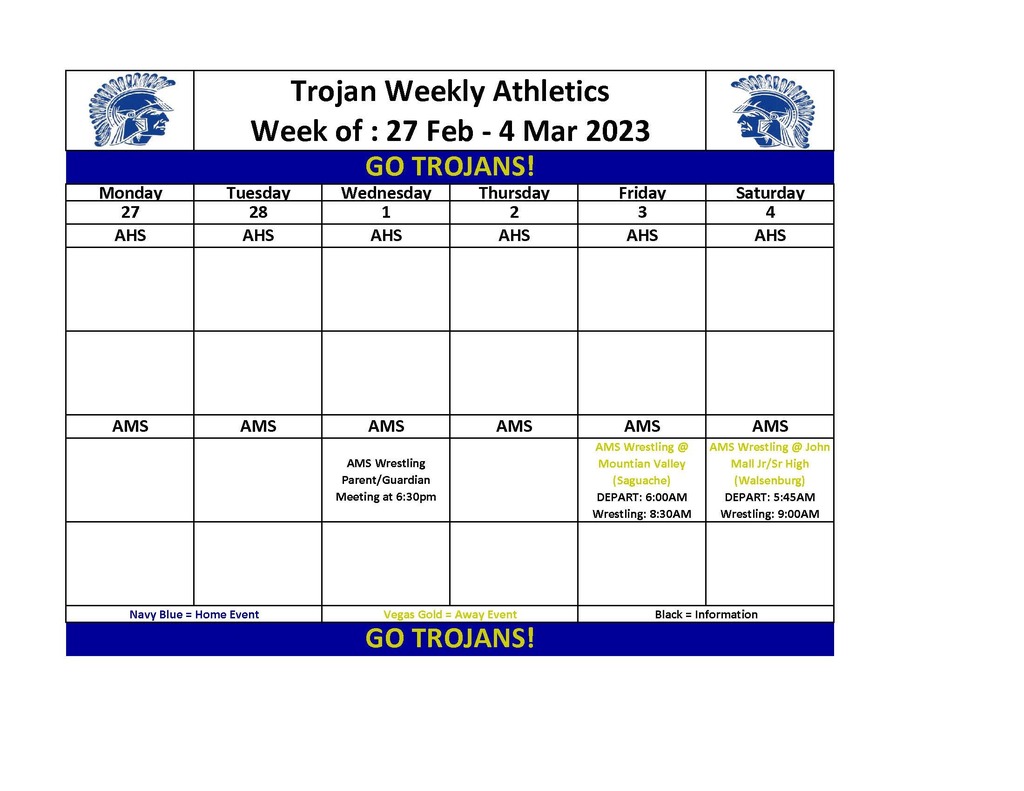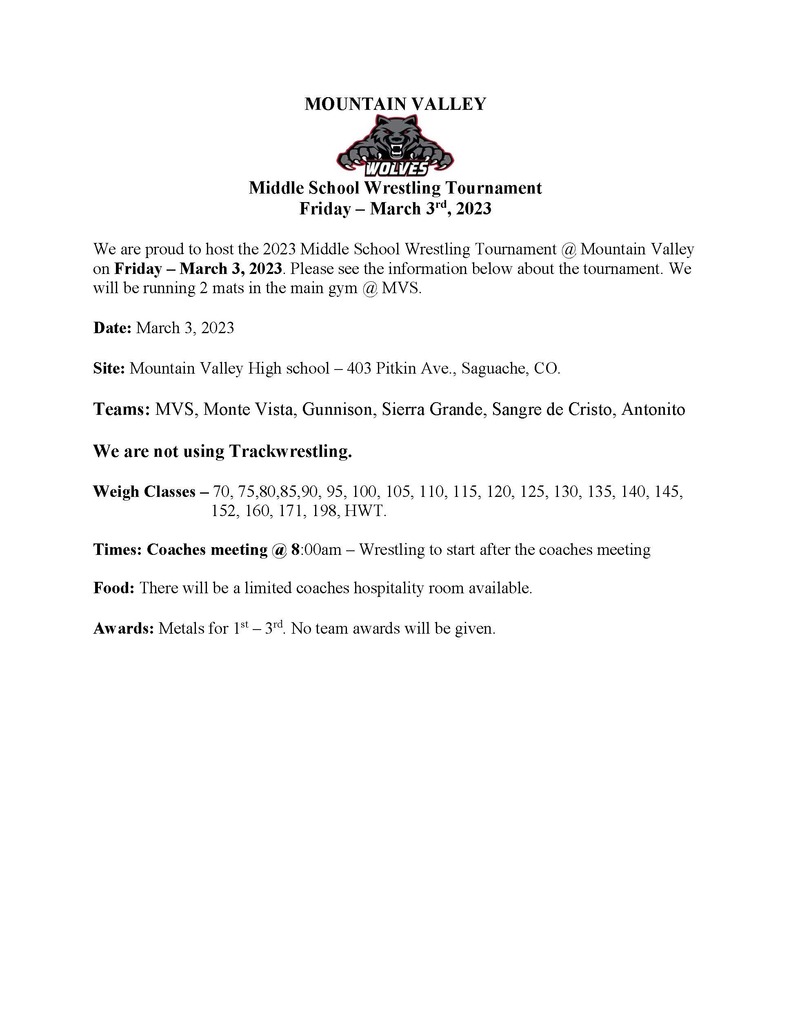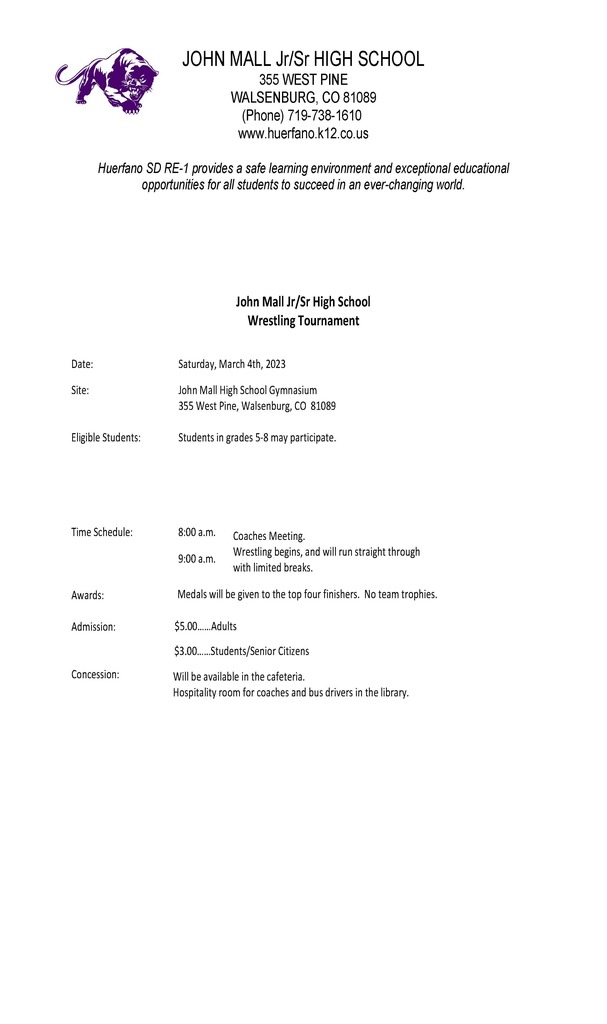 Jordan Hannebaum Raise the roof for Miss Jordan! Her role in the district is Preschool Lead Teacher as well as the Preschool Director. This is her third year with the district. Her favorite things about working here are, working with the children and getting to know the families. She said she listens to a little bit of every type of music. Her favorite things to do, when she's not here at school: are walking her dog, being outside, and hanging out with friends.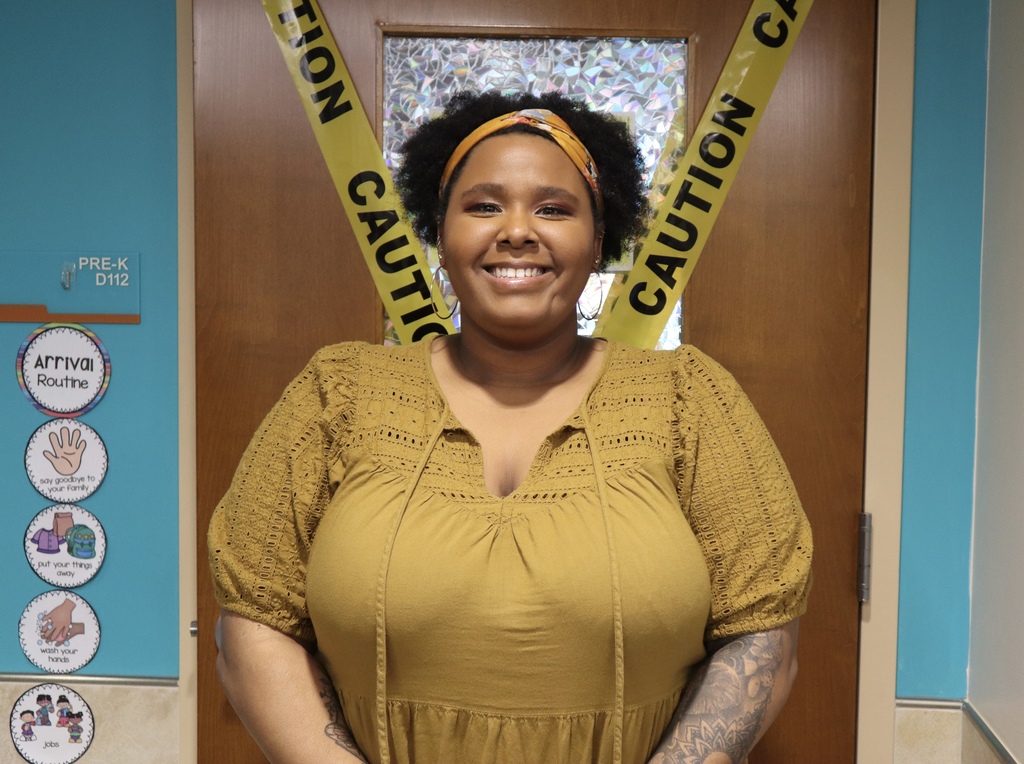 Trojan Highlight: Andrea Cortez Miss Andrea is one of our preschool assistants and has worked with us for about a year and a half. She loves working with the little ones! Her favorite type of music is Spanish music. Outside of school, she loves to go camping, fishing, and of course, she loves spending time with her family. Let's give a shout-out to Miss Andrea!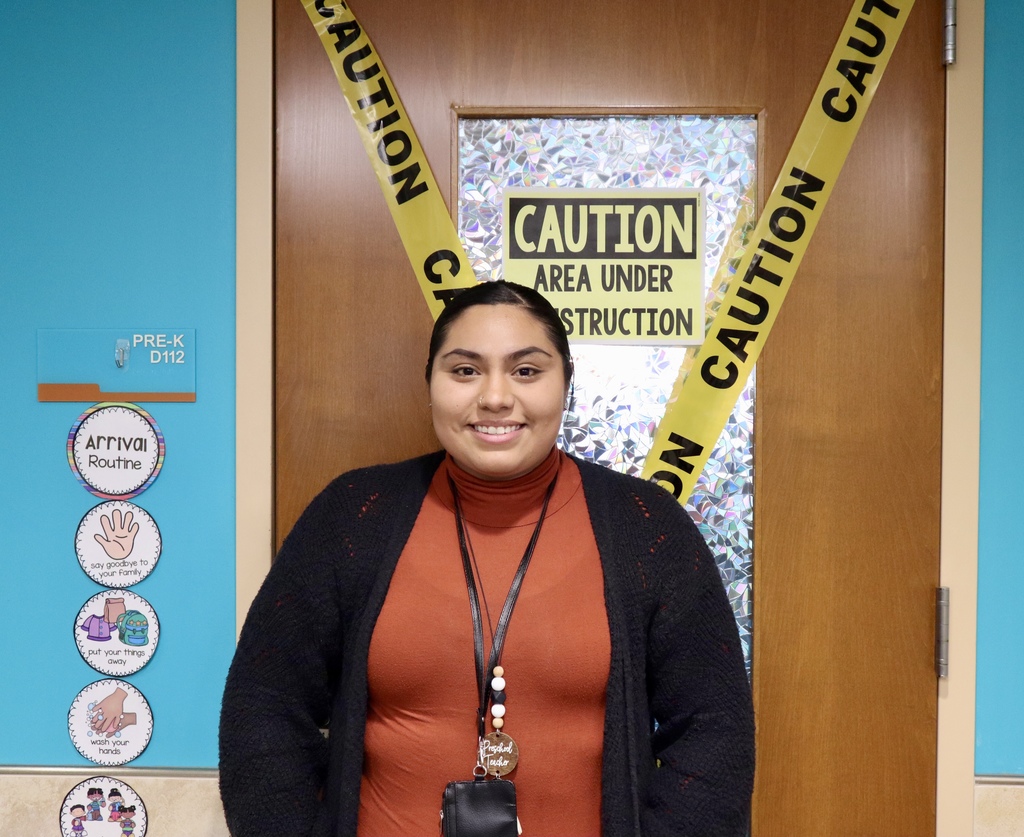 A great event for all agriculture workers!
Updated Middle School Destination Imagination Schedule.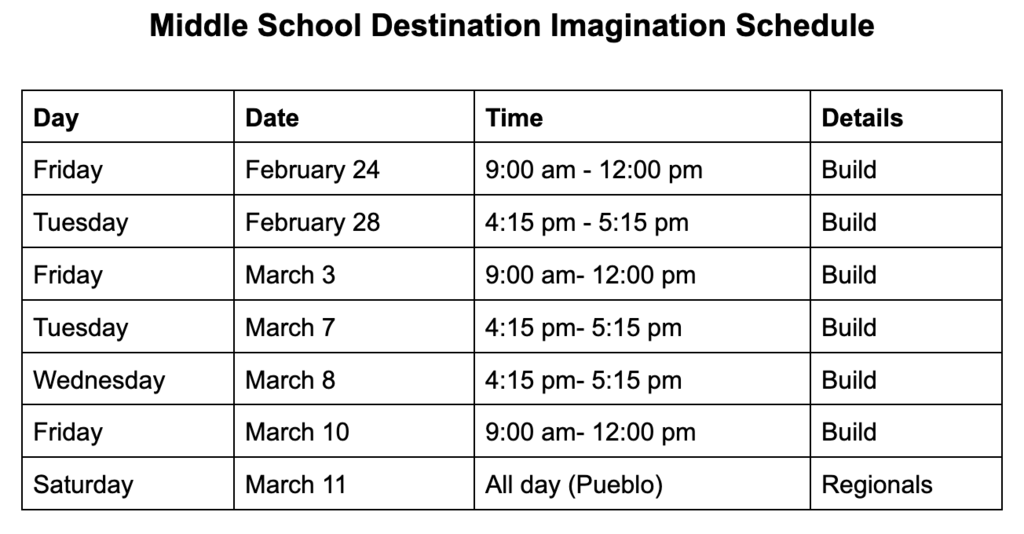 There will be no Boys & Girls Club or other extracurricular activities today.

Good Afternoon Trojan Families, Due to high winds, low visibility, and icy conditions developing on our bus route, we will have early dismissal at 2:00 pm. Families who need a change in drop off or pick-up for their student need to call the school at 719.376.7001.

MS Wrestling information for Friday, 2/24 and Saturday, 2/25.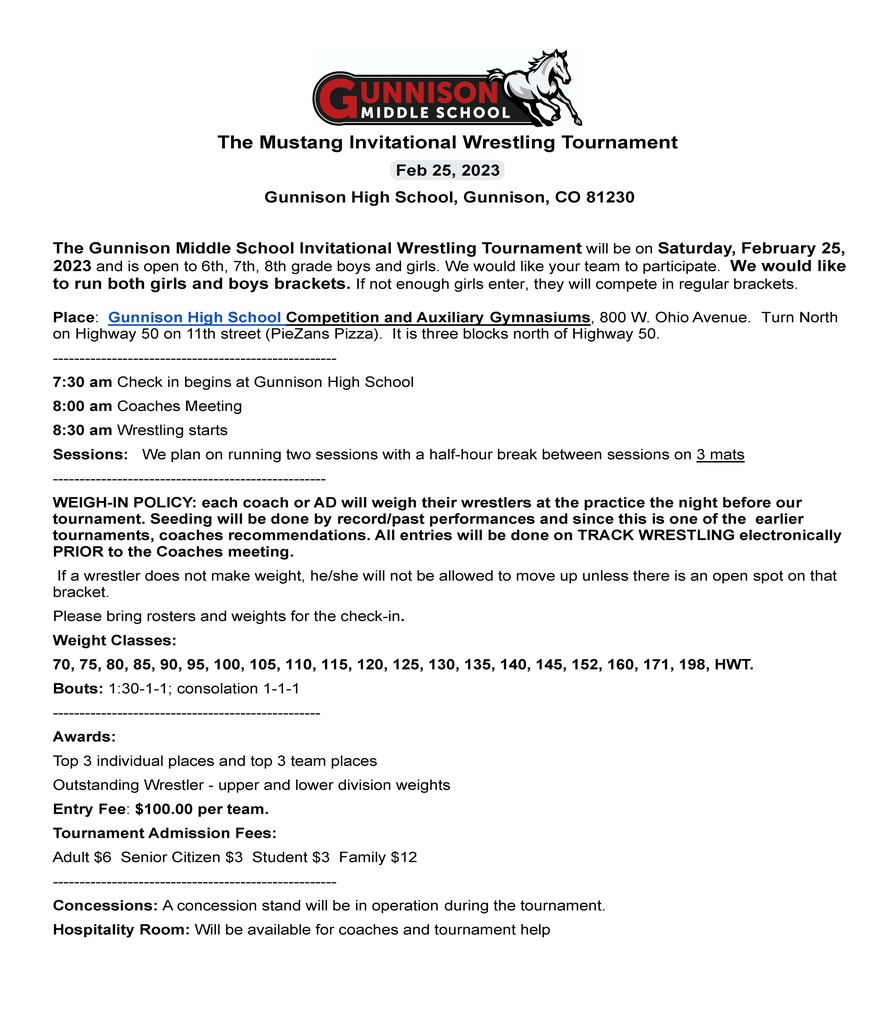 Trojan Weekly Athletics Update Our HS basketball season is over. While both teams weren't victorious yesterday, they played hard and never gave up. Both teams faced adversity throughout the season and worked through it. It reminds me of a quote: "Winners never quit, and quitters never win." – Vince Lombardi Attached are the District Tournament brackets for 1A and 2A if anybody would like to go to Del Norte and watch some valley basketball. Good luck to all the valley schools this week and next week! GO TROJANS!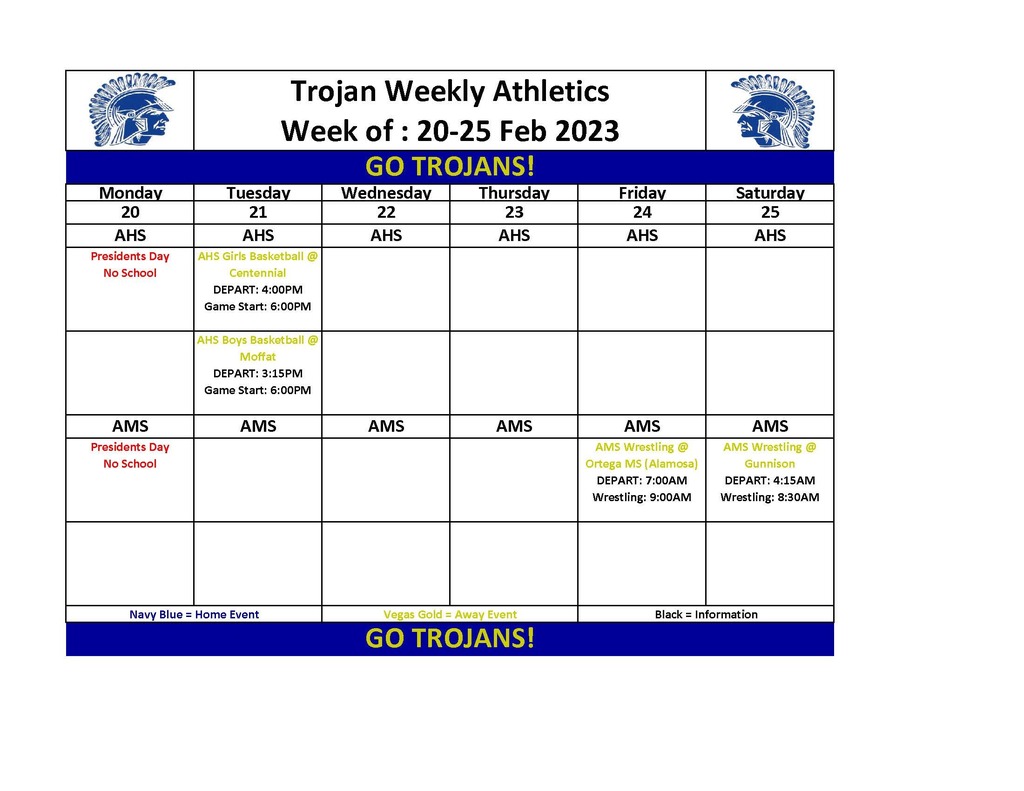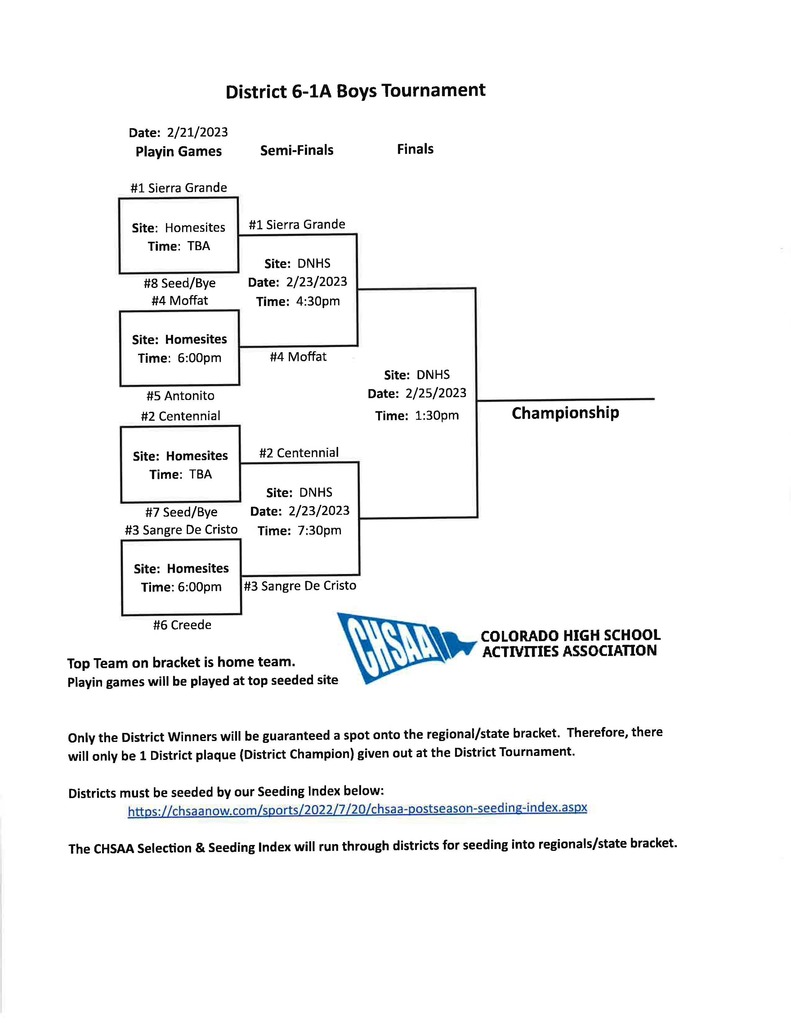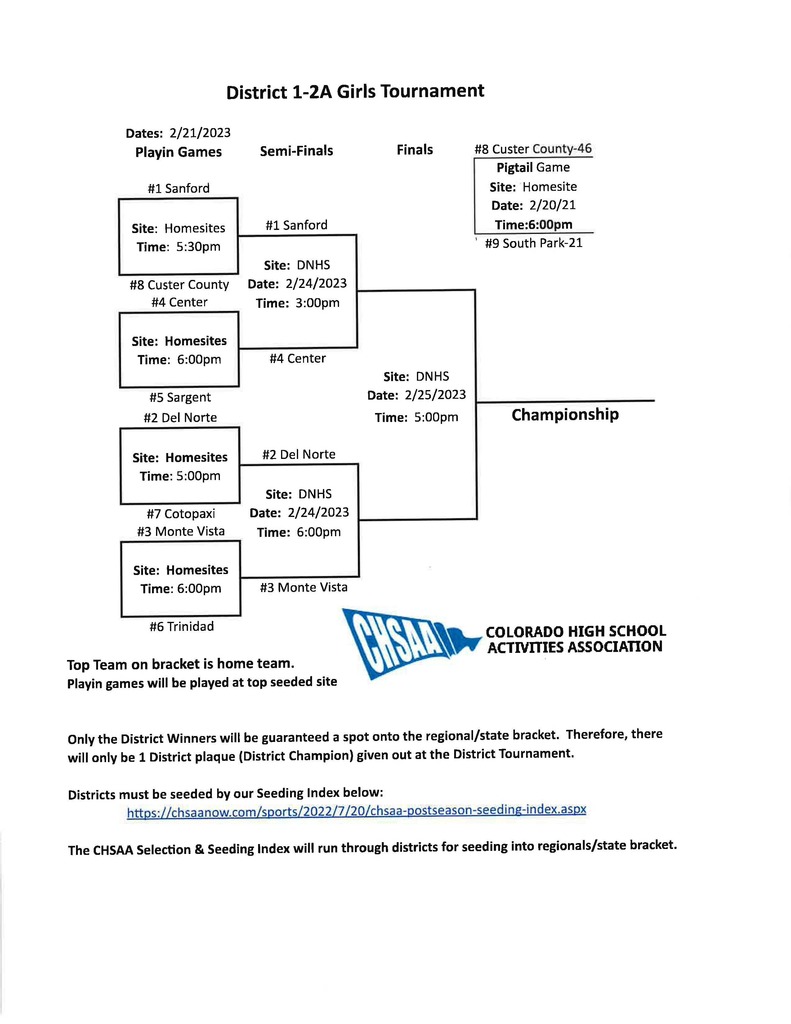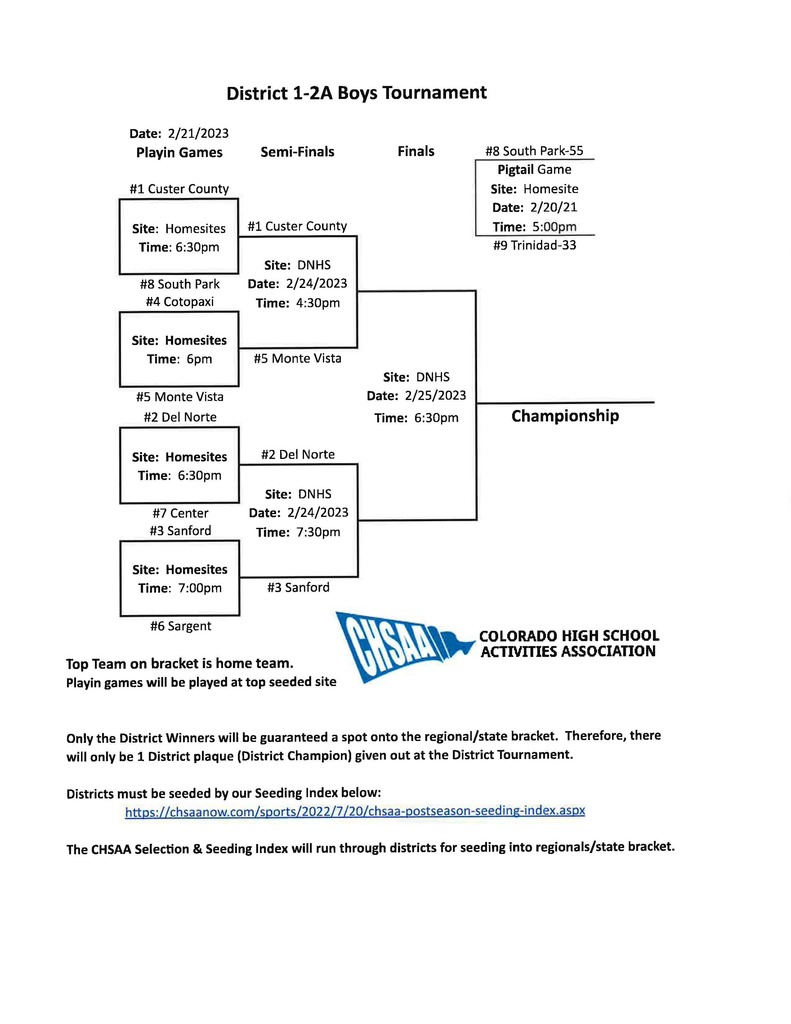 Trojan Weekly Athletics