The South Conejos School Board of Education will be conducting a Regular Board Meeting on the 27th day of June 2022, at 6 PM. The meeting will be held in the Secondary Flex area.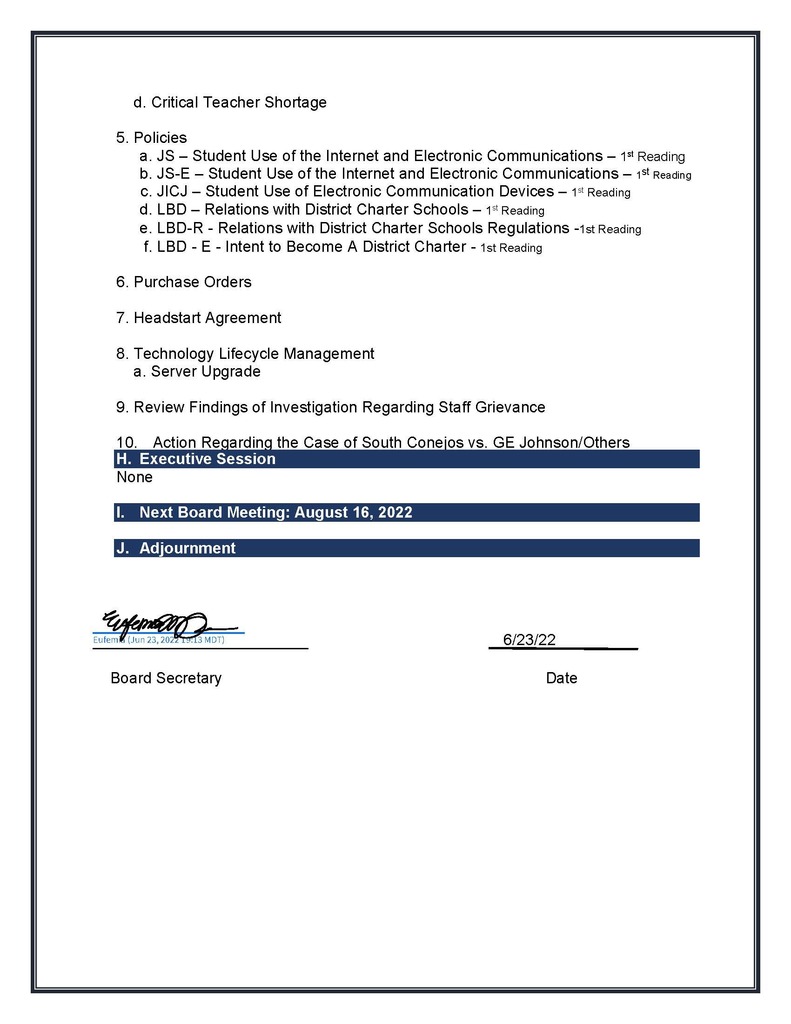 Trojan families; Summer School, Boys and Girls club, and open gym are canceled today due to a water outage. All activities will resume tomorrow. We appreciate your understanding, have a great day.

SCSD BOARD RESOLUTION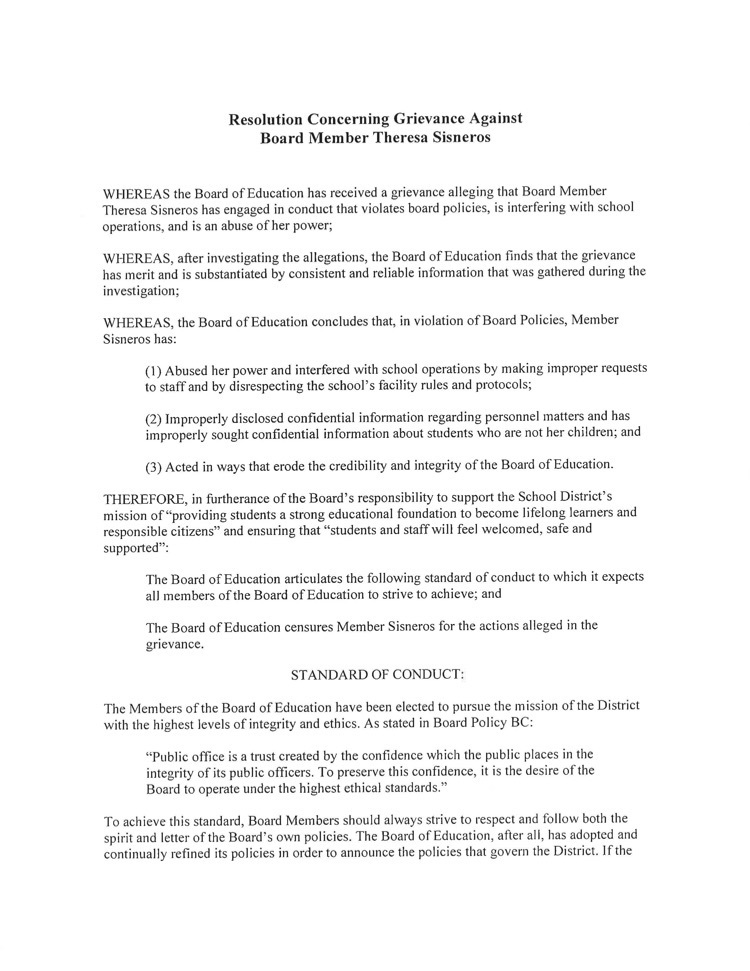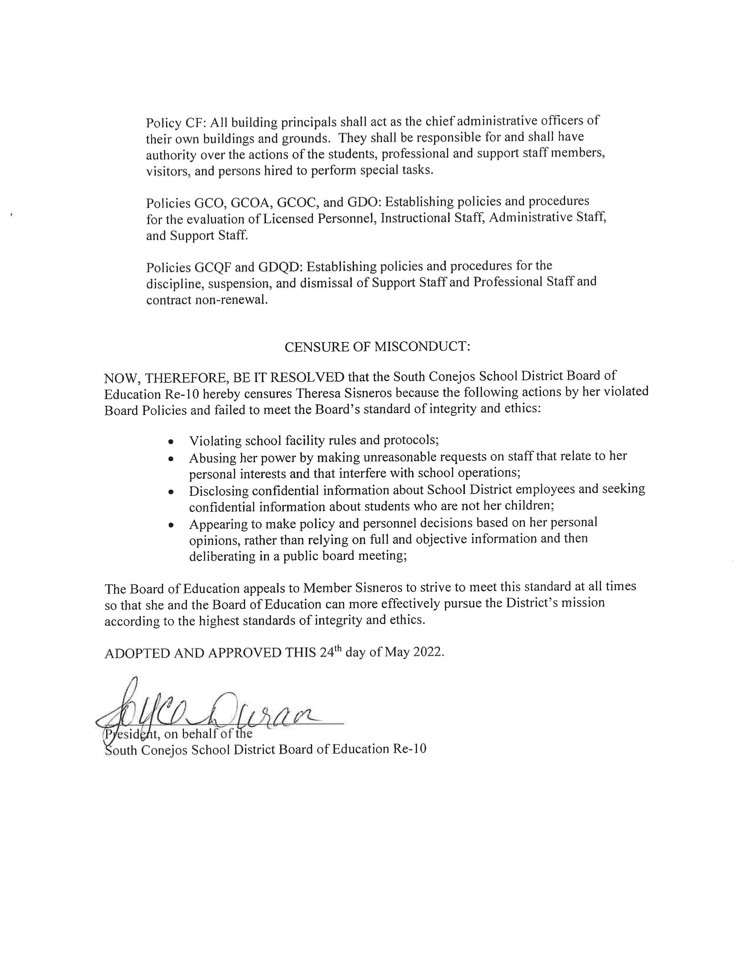 The South Conejos Six published their first poetry book, The Inspiration Journal, in conjunction with our community partners at History Colorado and Antonito Together! Zanita Garcia, Airyanna Sisneros, Luz Elena Parra Ramirez, Lexie Maez, Annika Sisneros, and James Copsy are the brilliant writers of the South Conejos Six. They were lead by their creative writing teacher, Maddie Stouder. This collection explores the intricacies of Antonito and the students' personal experiences. We want to thank all our partners for brining this experience together for our students: History Colorado, Museum of Memory, Fort Garland Museum and Culture Center, Antonito Together, Arts in Society, and the Colorado Trust. Copies of the journal will be available in the upcoming weeks at the Antonito Public Library.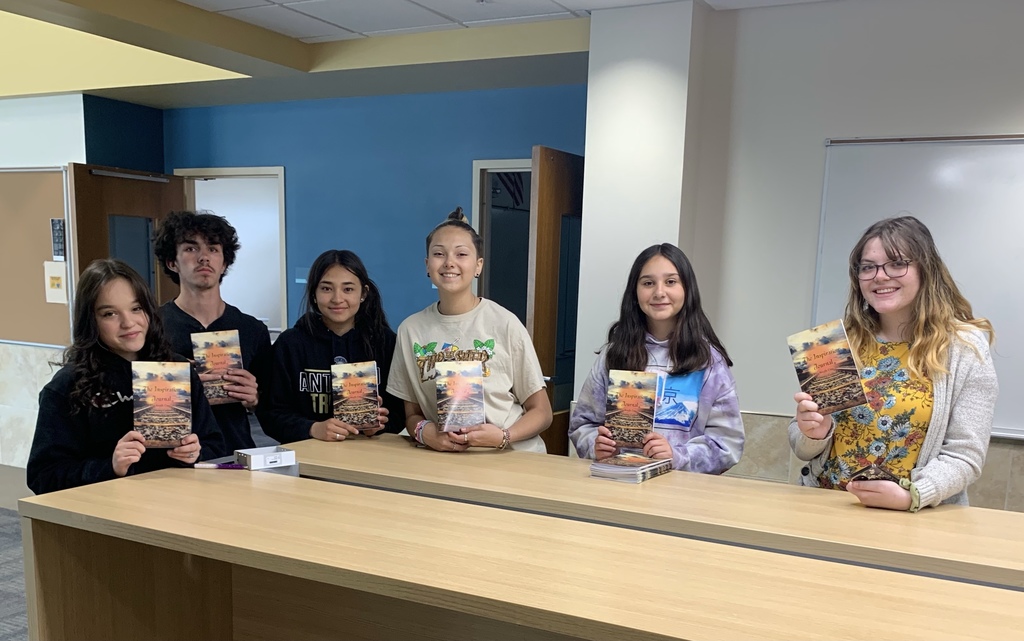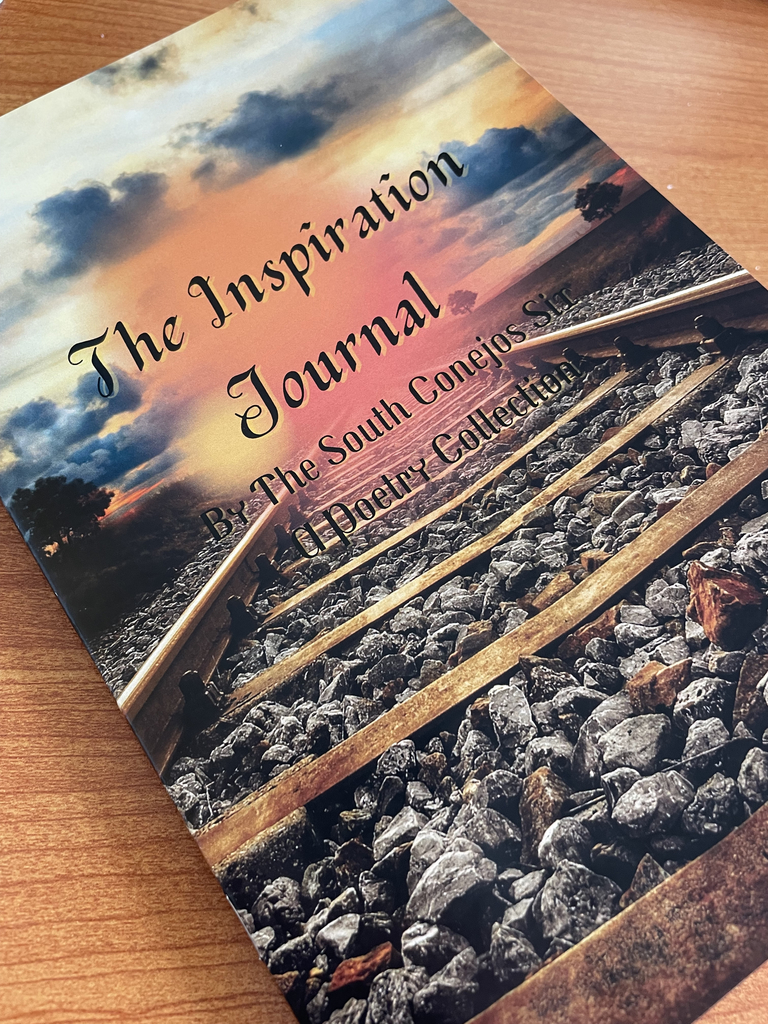 The South Conejos School Board of Education will be conducting a Regular Board Meeting on the 24th day of May 2022, at 6 PM. The meeting will be held in the Secondary Flex area.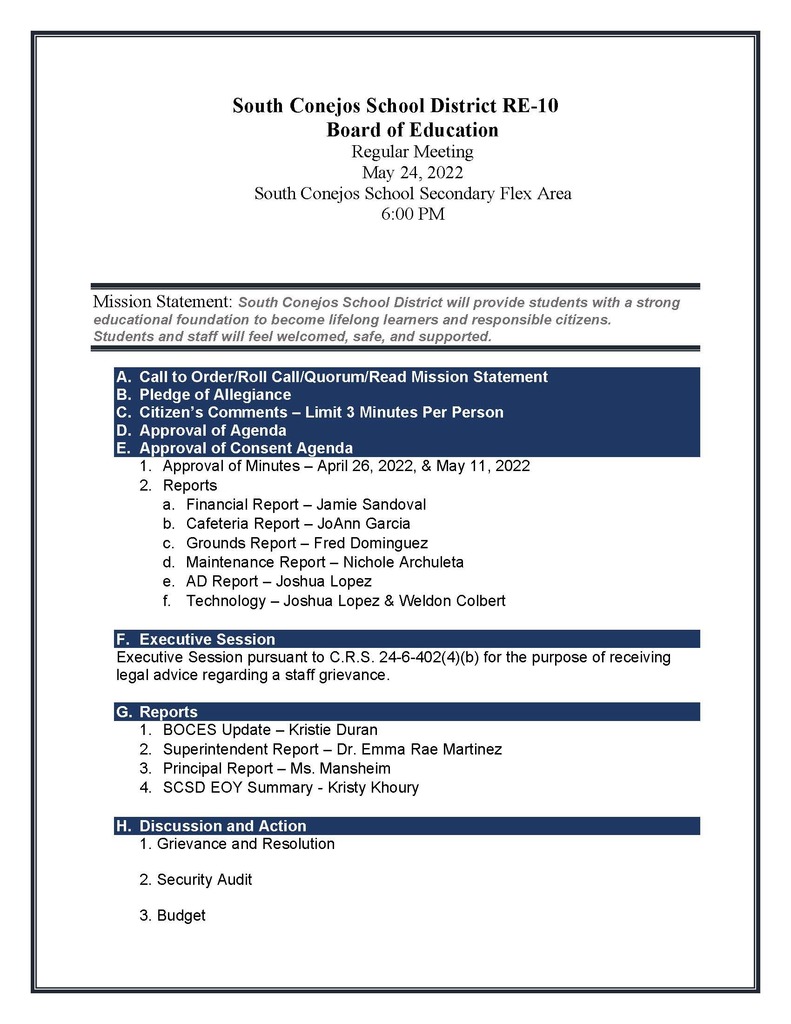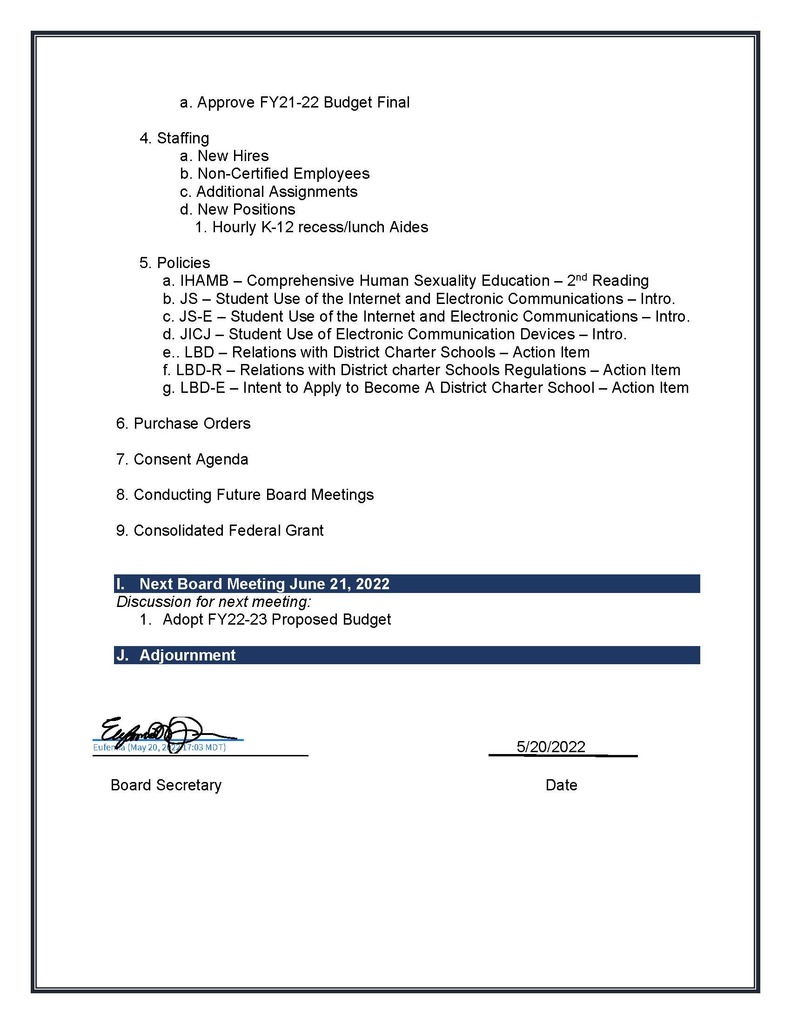 We have arrived at our last week of school! We are so grateful to all our families, students and staff for a wonderful 2021-2022 school year. Below are a few important dates for this week: May 23rd: Junior Checkout from 12:00-4:00 May 24th: Sophomore Checkout from 8:00-12:00 Freshmen Checkout from 12:00-4:00 1st-5th Pueblo Zoo Field Trip May 25th: PreK-8 Checkout (school will dismiss at 4:00) May 27th: Candle & Rose/Graduation Ceremony 6:00 pm

SOUTH CONEJOS SCHOOL DISTRICT POLICY KF-R: Community Use of School Facilities Responsibility The superintendent shall be responsible for the administration of the accompanying policy on community use of school facilities. The role of the superintendent shall be that of assisting potential users in finding suitable space and providing technical assistance to appropriate building staff upon request. Scheduling After district activities have been scheduled, space will be available with attention to broad and equitable use of facilities. Alternate locations will be offered whenever possible if a particular building cannot accommodate all requests. All use is subject to the general guidelines and availability of district staff. The administrative secretary shall be responsible for notification of each principal and head custodian of the date and time of all building activities and the rooms reserved and for keeping a calendar of all rental commitments and reservations for regular school activities during the year. Permission for use during the hours of the regular school day or during the period immediately after the closing of school, which in the judgment of the principal may be necessary for school purposes, may be refused. Permission will not be granted for use Monday through Thursday evenings for any high school facility in which an adult school program is being conducted if in the judgment of the principal such use would interfere with or impede the conduct of the school program. Field use Fields will be available for approved community use. This use is subject to cancellation or adjustment due to weather or field conditions. Groups requesting reserved and exclusive use shall be charged a fee based on the number of teams and fields used. Application for use Written approval is required for use of a school building or grounds by any group that is not a part of the regular public school program. Such approvals which are considered to be a part of these regulations may be granted for a single use or a limited, continuing use. The requestor must submit a completed application form for "Use of School Facilities" to the superintendent for approval, denial, or modification. Approval will depend upon satisfactory assurance that the use of the school facility will be under the direct supervision of an adult who in the judgment of the superintendent is responsible and competent to supervise the proposed program or activity. The supervision provided by each renting group must be adequate to ensure that the members of the group remain in the assigned portion of the facility. If required by school officials, guards or uniformed police also must be provided at the expense of the user. If approved, the activity will be added to the building master calendar and copies of the application will be completed and distributed to the head custodian, principal, applicant and other school personnel as deemed necessary. Cancellation and revocation The user must notify the superintendent if the event is canceled or times are adjusted. Repeated and/or short notification of cancellations may result in denial of further requests for building use. The district reserves the right to cancel building use permits should the space be needed for school or school-related activities. This privilege will be used only when necessary due to unavoidable circumstances. Attempts will be made to offer alternative space. The district may revoke building use at any time. When this occurs, appropriate financial adjustments will be made. General regulations 1. A regularly employed member of the custodial staff must be on duty during the use of any school building by groups to which permission has been granted. 2. No permit will be transferred to any person or group other than the one to whom issued. 3. Safety All applicable fire and safety laws/regulations governing use of school facilities must be observed at all times, including: a. Auditorium exit lights must be used. b. Open flame (including candles) is prohibited. c. Room capacity is not exceeded. d. Temporary electrical or mechanical modifications are prohibited. e. Flammable holiday or other decorations are prohibited. f. Stairways, corridors and entrances/exits must be kept free from obstruction at all times. g. No equipment, scenery or decorations of any type may be used within the building or on the premises except as specifically authorized in the permit. Such authorized equipment, scenery or decorations, must conform to all local and state regulations and must not be attached to the walls, floors or ceilings (except to anchors presently provided). 4. Prohibited activities on district property a. Use or possession of alcohol or controlled substances. For purposes of this regulation, "controlled substances" means drugs identified and regulated under federal law, including but not limited to marijuana, cocaine, opiates, phencyclidine (PCP) and amphetamines (including methamphetamine). Failure to comply will be dealt with by local law enforcement agencies. b. Smoking, chewing or any other use of tobacco products within the building or on school grounds in accordance with state law and Board policy on tobacco-free schools. If an individual group does not comply with this policy or these regulations, the group will be denied use of district facilities for a period of no less than 18 months. c. All disruptive or illegal activity, including obscene language, quarreling or fighting. d. Unlicensed gambling. 5. Damage a. The approved party will be responsible for all damages and losses to the school facility and/or the contents and must indemnify and hold harmless the Board and its employees from any claim resulting from or arising out of the use of the school facilities named in the application or any part of the facilities covered in the application. b. The Board will not be held responsible for any damage or loss which may occur to non-school property brought on the premises. Such property must be removed from the facility immediately after the use or before such time that the materials will interfere with school activities. 6. Insurance a. School district property insurance and comprehensive general liability insurance do not extend to community or other groups using school facilities. b. The district may require non-school groups to provide certificates of insurance. 7. Locations All applications will be approved for specific rooms or fields. It will be the responsibility of the approved party to restrict the activities of the group to that specific area except for necessary hallways and restrooms. The approved party is responsible for not allowing unauthorized individuals into the approved area or activity. The presence of unauthorized individuals must be reported to the staff manager on duty. 8. Times Facility use times will be specified in the application. All groups are expected to vacate the premises by the hour specified. An additional hour rental may be charged for early arrival or late exit. All use permits will terminate by 10 p.m. Exceptions to this may be approved by the superintendent No non-school groups will be permitted use of facilities on regularly scheduled school days prior to 4:30 p.m. 9. Days Facilities may be rented Monday through Friday as space is available and as such rental does not interrupt or disturb regular school activities. Use of school facilities on Saturday or Sunday may be permitted and will be subject to staff availability where applicable. Summer use may be limited due to custodial work schedules. 10. Clean up General clean up will be the responsibility of the approved party. Rubbish must be removed from the facility immediately after use or before such time as it will interfere with school activities. Additional fees will be charged for clean up when deemed necessary. Guidelines for religious use Facilities may be used for religious activities under the following conditions: 1. Church services and religious activities must be conducted at times when school is not in session. 2. Religious objects and symbols must be removed after each use. Nondiscrimination All users are subject to laws and regulations applicable to school districts which prohibit unlawful discrimination based upon age, sex, sexual orientation, national origin, race, color, ancestry, creed, religion, marital status, disability or need for special education services. Rental categories Category 1 No rental fee shall be charged to the following: 1. School-affiliated groups such as parent-teacher organizations, school-related parent and community groups, or employee groups of an educational, recreational, social or professional nature as approved by the superintendent. 2. Governmental entities using facilities as a polling place. 3. Precinct caucuses. Category 2 A nominal non-refundable fee shall be charged to the following groups for each application. No additional rental charges shall be made if their activities take place when normal supervisory or custodial personnel are present or use is restricted to fields. 1. Community-sponsored groups that do not charge a fee and whose main purpose is to hold an informative meeting that is open to the public (such as League of Women Voters, political parties, local neighborhood organizations and recognized community service groups). 2. Community-sponsored youth and senior citizen activities when: a. Instructors or supervisors receive no payment for their involvement in that activity. b. Fees for the activity, if any, provide only for direct non-personnel costs. Category 3 Commercial, private, church and other non-profit groups that do not meet the criteria in Category 2 and for-profit groups and individuals may rent school facilities when their use is not incompatible with Board policy. Fees 1. Custodial Any organization or individual, regardless of classification, shall be required to pay the cost of custodial services if use of the facility will result in direct costs to the school district. For those facilities where a custodian is regularly on duty during the rental, the user may be charged up to two hours per use at the current custodial salary rate to compensate for additional work required in opening, securing, cleaning, etc., related to the rental. 2. Cafeteria A school cafeteria manager or other designated cafeteria employee(s) must be present for general supervision of the cafeteria/kitchen. All persons working in the kitchen (preparing food and/or handling kitchen equipment) must meet state and county requirements for school food handlers. The user shall pay the district in accordance with the fee schedule for all cafeteria personnel. The user shall be given and must abide by a set of guidelines for kitchen use. 3. Payment All users are expected to pay rental fees in advance. Failure to pay as per agreement may result in denial of access to the facility and denial of future requests. Checks should be made out to the school district and forwarded to the district business office. 4. Financial accountability It will be the responsibility of the superintendent or designee to ensure that revenue received is forwarded to the business office for deposit to the appropriate accounts. Fees collected for salaries will be used to reimburse those accounts. Fees collected for facility rental/use will be deposited in the district facility maintenance account. 5. Fee revision Rental fees are subject to review and revision and may be adjusted annually by the Board. Guidelines for denial of use: The district reserves the right to deny building use for any reason. Approval will be denied if in the judgment of the superintendent the proposed activities would: 1. Jeopardize the equipment and/or facilities of the building. 2. Conflict with school activities. 3. Be incompatible with the school neighborhood. 4. Violate any Board policy or local, state or federal law. Guidelines for appeal Applicant(s) may file a written appeal to the superintendent if an application for use of school facilities is denied. Further appeal, if necessary, may be made to the Board of Education. Approval date: Sept. 22, 2014

We want to welcome all elementary parents who are able to join us to come for our field day and class awards on May 19th. K-2 will have their field day from 9:00-10:00 am followed by awards in the cafeteria from 10:00-11:00 am. 3-5 will have their awards from 9:00-10:00 am followed by field day from 10:00-11:00.

Public Notice: The South Conejos School Board of Education will be conducting a Work Session on the 19th day of May 2022, at 5 PM. This work session will be held in the Secondary Flex area.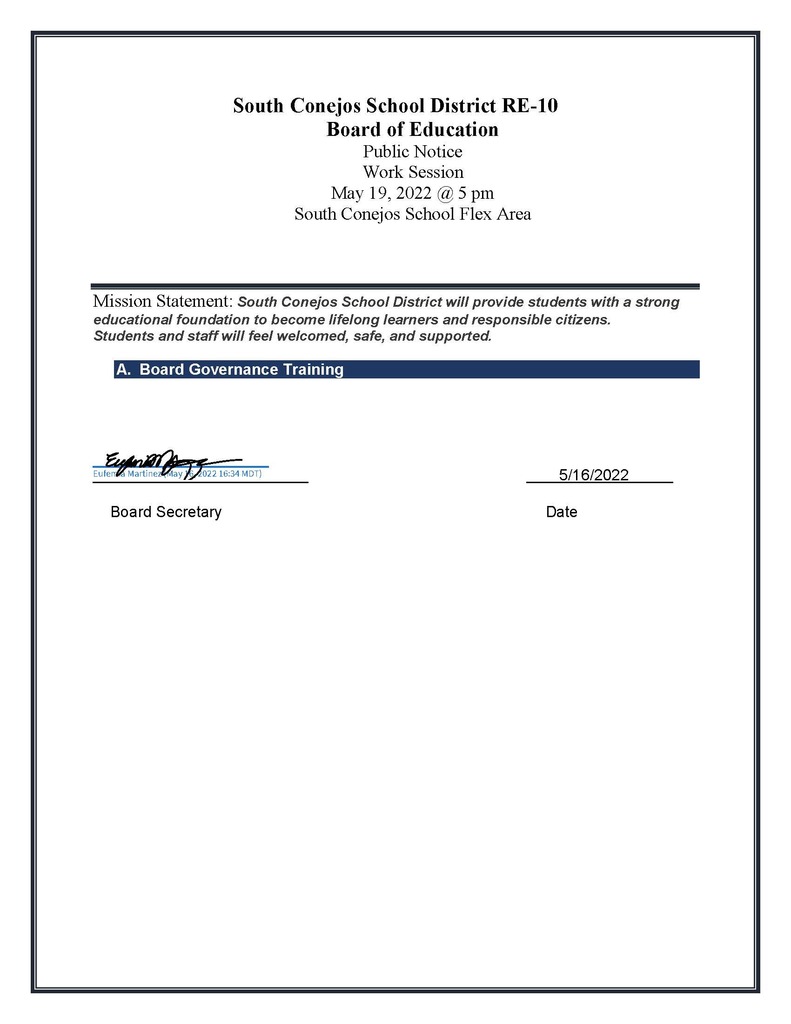 The South Conejos School Board of Education will be conducting a Special Board Meeting on the 11th day of May 2022, at 6 PM. The meeting will be held in the Secondary Flex area.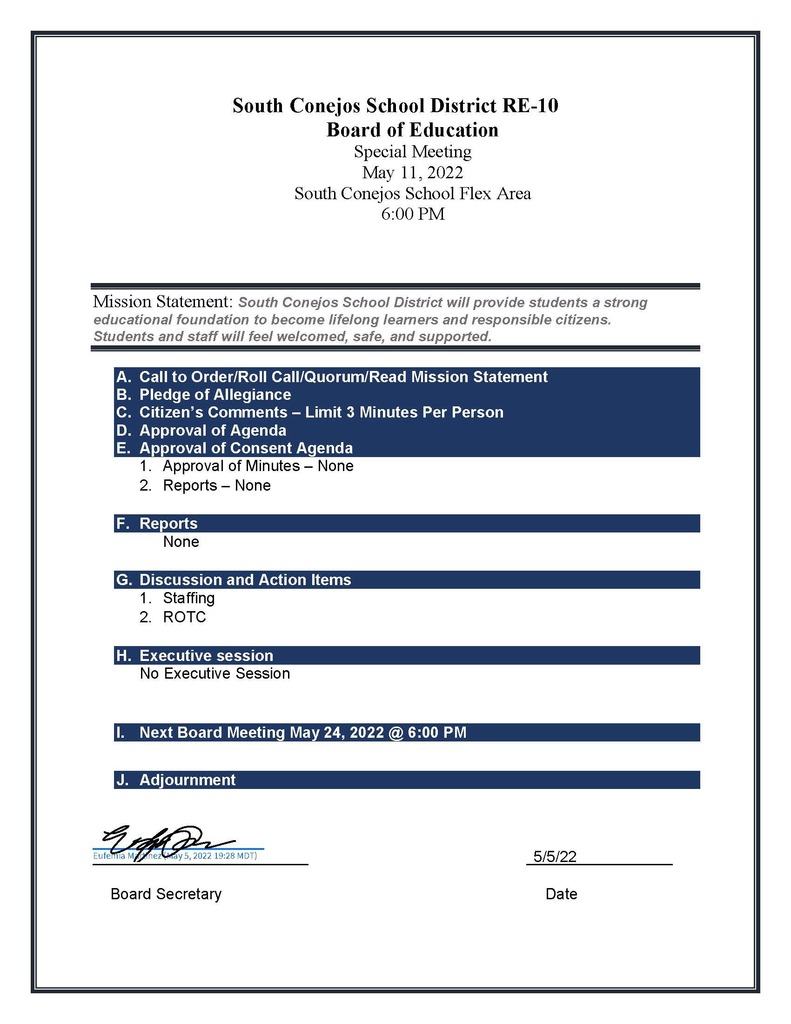 High School Parents, students have requested to shorten after-prom due to Mother's Day activities. Parents and Guardians please pick up your students at 2:00 am.

Congrats to our freshmen Jesus Madril-Powell and Elias Vigil on their Great Idea Award at today's RISE Expo at ASU! Jesus and Elias want to build a business 3D printing fidgets to help with ADHD and anxiety.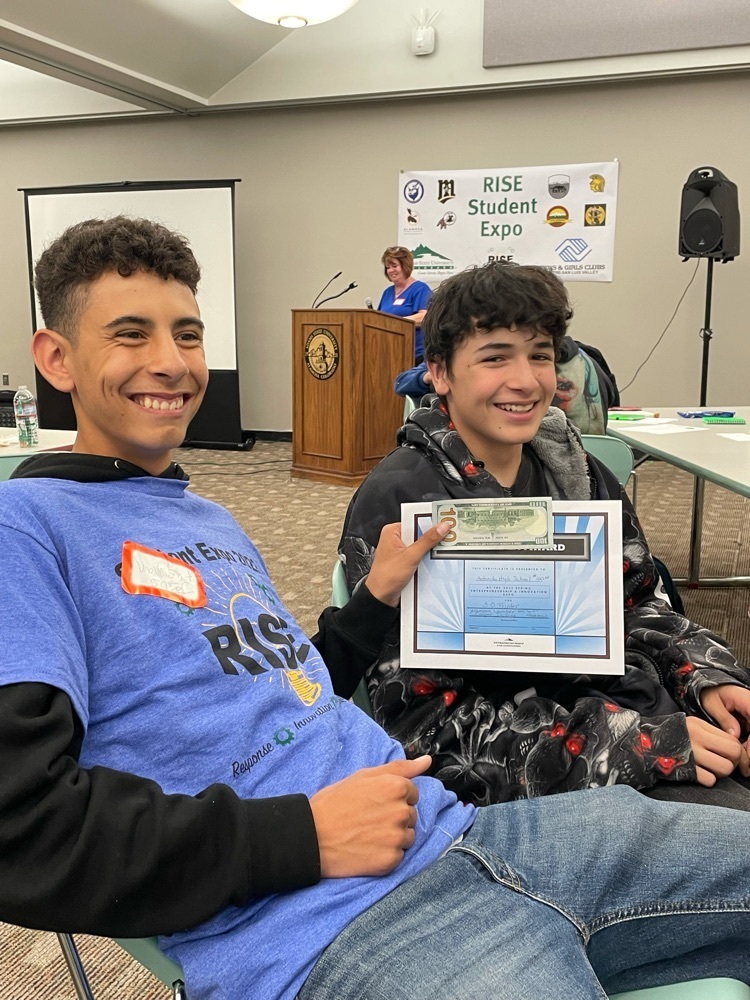 Trojan families, today's middle school baseball game against Sargent has been cancelled.

After the week of May 2nd-5th 2022, the incentive Covid testing program will be over for the year. Thank you to all the students who participated.

The South Conejos School Board of Education will be conducting a Regular Board Meeting on the 26th day of April 2022, at 6 PM. The meeting will be held in the Secondary Flex area.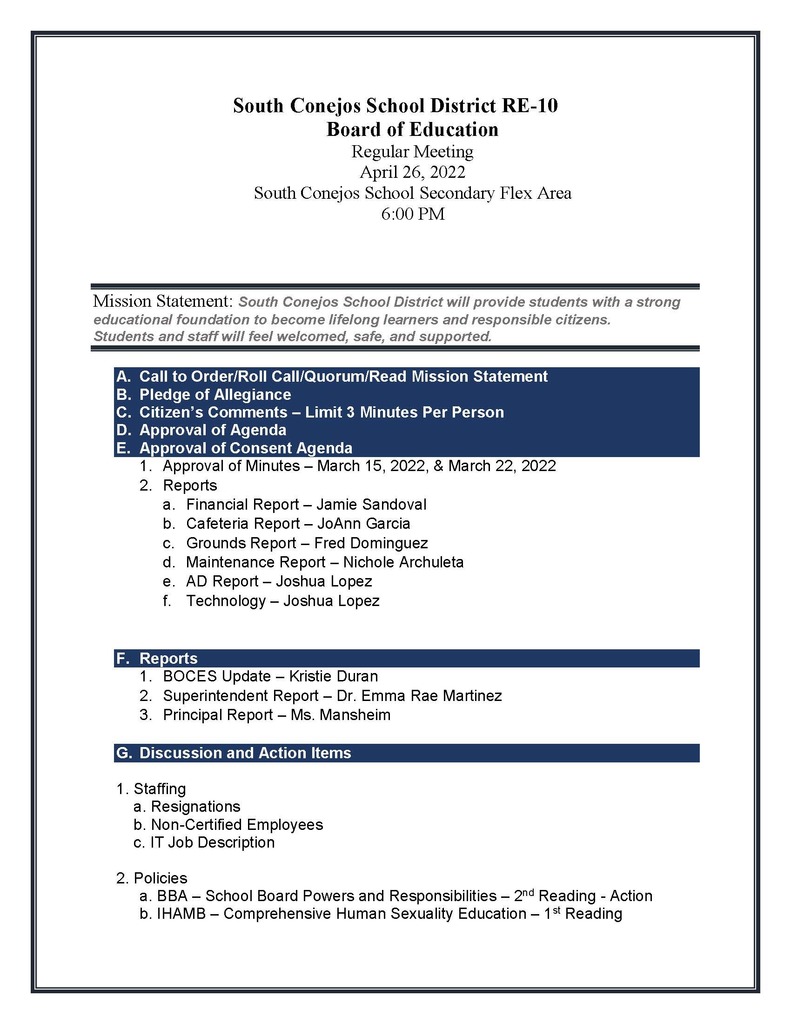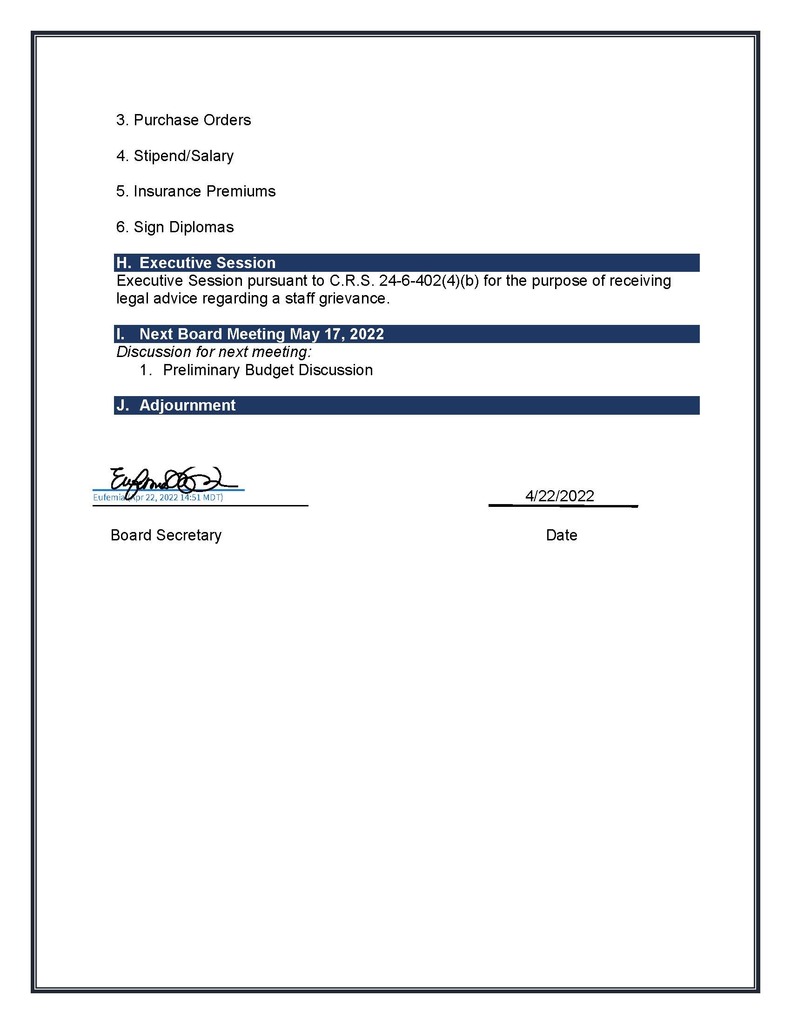 CMAS Testing for grades 3-8th and 11th begins next week. Please read the attached letter and schedule.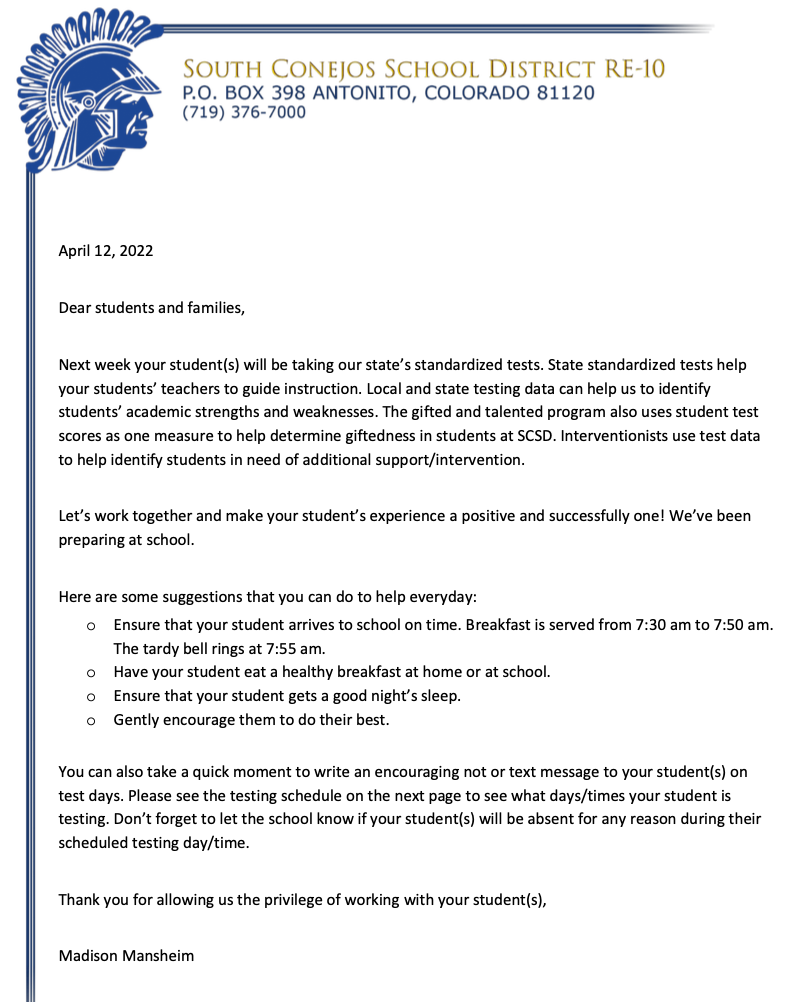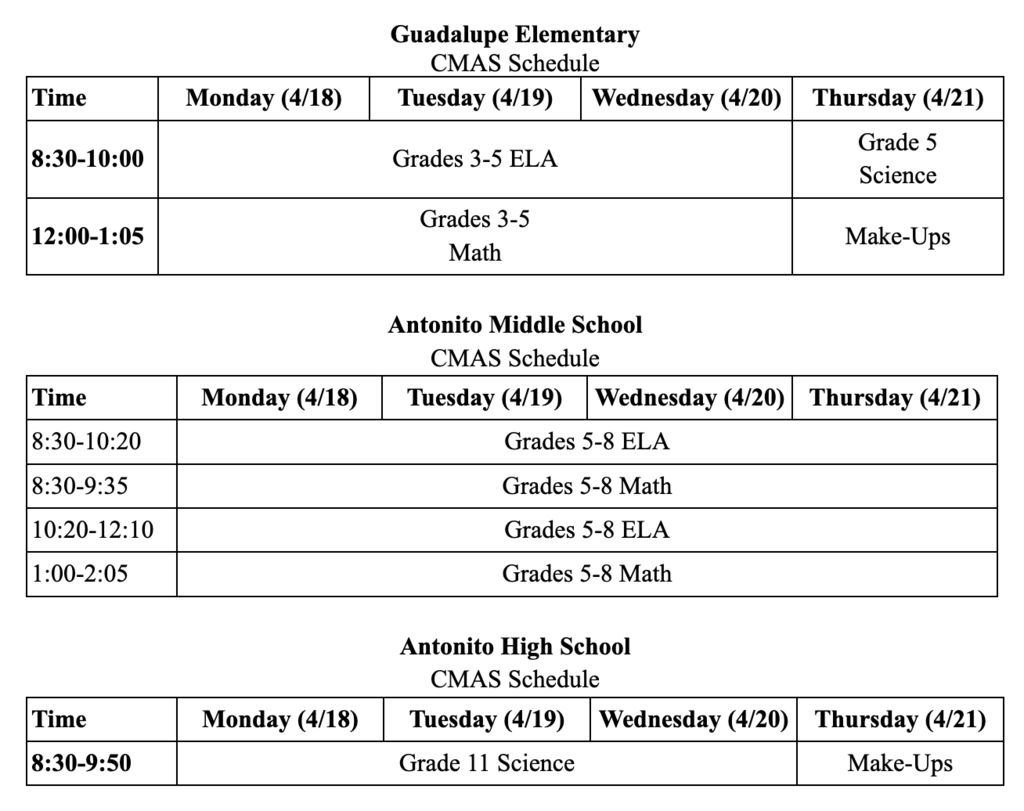 Good afternoon Trojan families. Today's MS Baseball game has been cancelled due to the high wind warning that remains in effect until 8pm this evening. We will try to reschedule the game with Sargent for a future date. Have a fantastic day and GO TROJANS!

On Wednesday April 6th, Conejos County Public Health will be at South Conejos Schools to administer mandatory vaccines to students who will be in the 6th grade for the 2022-2023 school year. I will be sending home permission slips for those who are interested. Please contact the school nurse if you have any questions.

Check out the amazing work our AHS students and our teacher Clint Huffaker created as part of the RISE grant with Adams State University!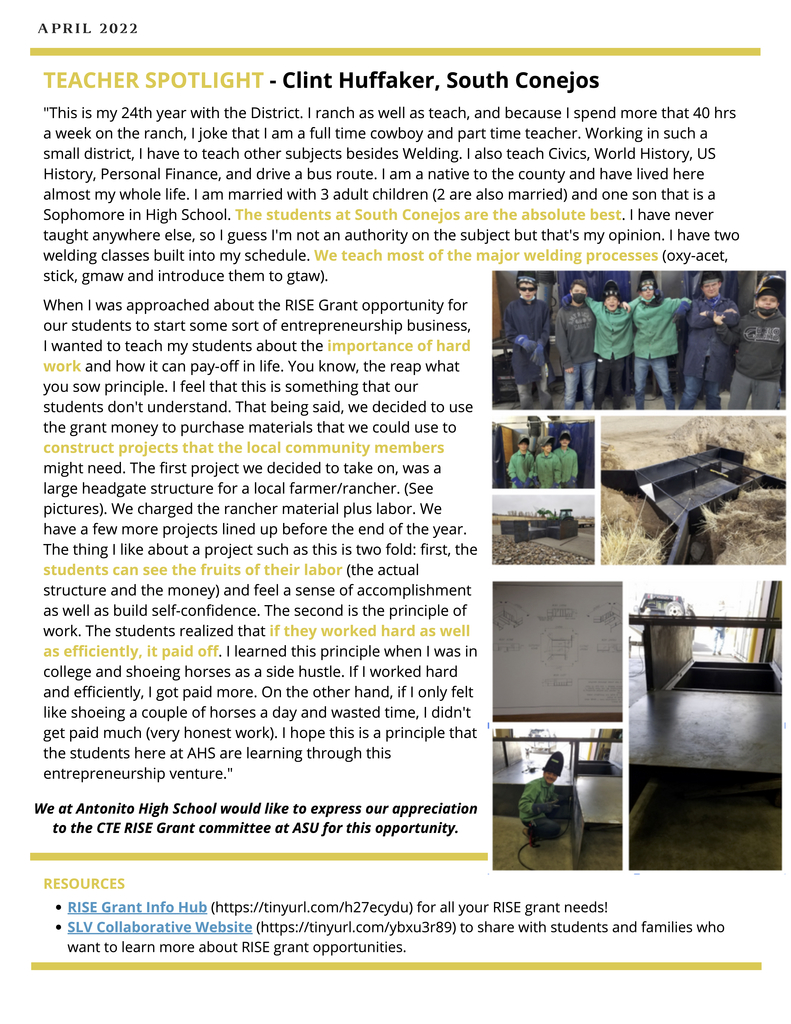 Athletics update: Spring sports are in full swing. Spring sports this year are high school track, middle school track, and middle school baseball. All schedules have been updated on our website:
https://www.southconejos.com/athletics?page_no=7
Spring sports parent meeting is schedule for Wednesday, April 6th. As a reminder, sports pictures will be taken on Monday, April 4th. GO TROJANS!