Luminaria Lighting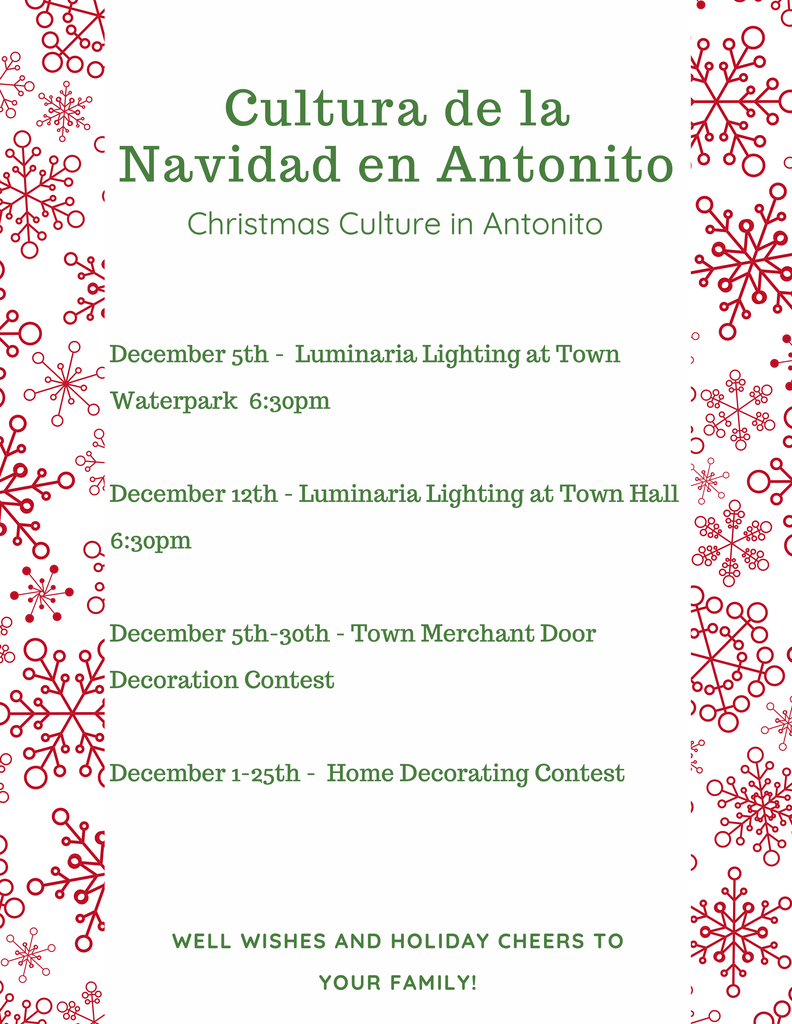 Good Morning Trojans, Based on the reported cases of COVID 19 in our county and to ensure that every student, staff member, and all of our families remain safe, district administration has recommended and the board approved remote learning for the three weeks between Thanksgiving and Winter Break. Therefore from November 30th to December 17th, we will be transitioning fully to remote learning for grades K-12. Preschool will remain with the option for in-person learning at this time. Your child will be sent home with a guide tomorrow on November 19th on how to login to Canvas, Zoom tips, a class schedule, meal pick-up, and contact information. They will also be sent home with any books, laptops, and materials for the three weeks we are remote. Beginning tomorrow, go to
https://www.southconejos.com/page/reopening-covid-19-update
for more information. As always, we are grateful to have this community as the Home of the Trojans.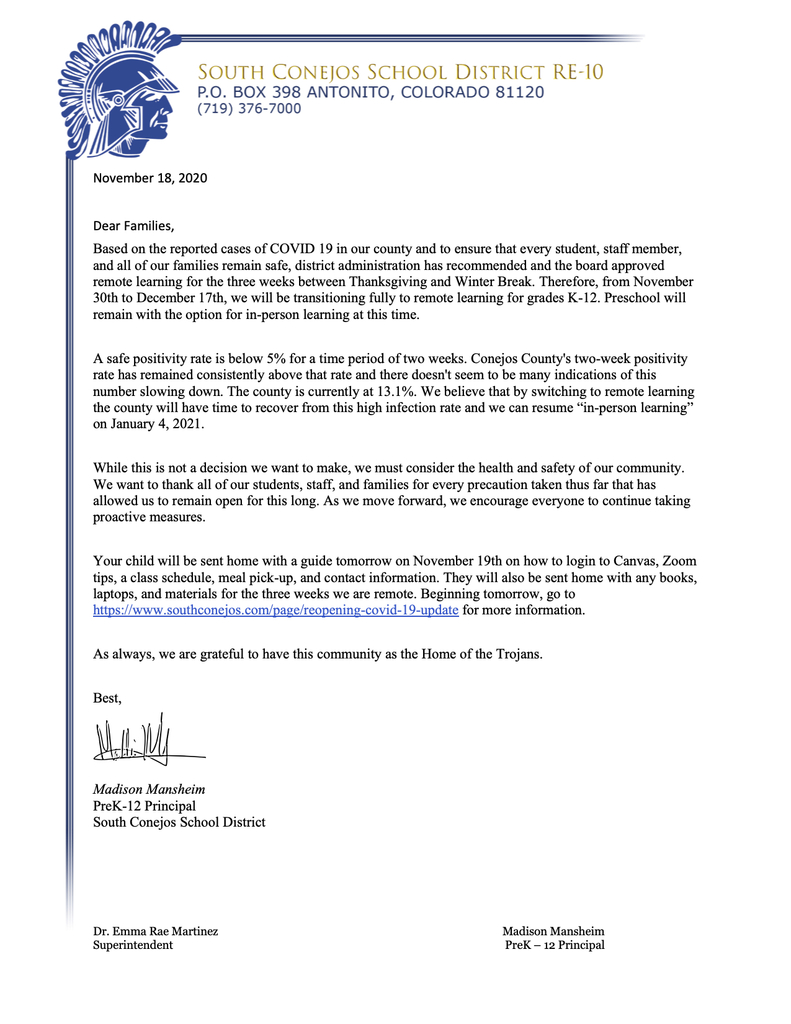 The South Conejos School Board of Education will be conducting a Regular Board Meeting on the 17th day of November, 2020 at 6 PM. This meeting will be conducted in person, and open to the public via videoconferencing and teleconferencing through zoom. Please click the link below to join the webinar:
https://us02web.zoom.us/j/82085701803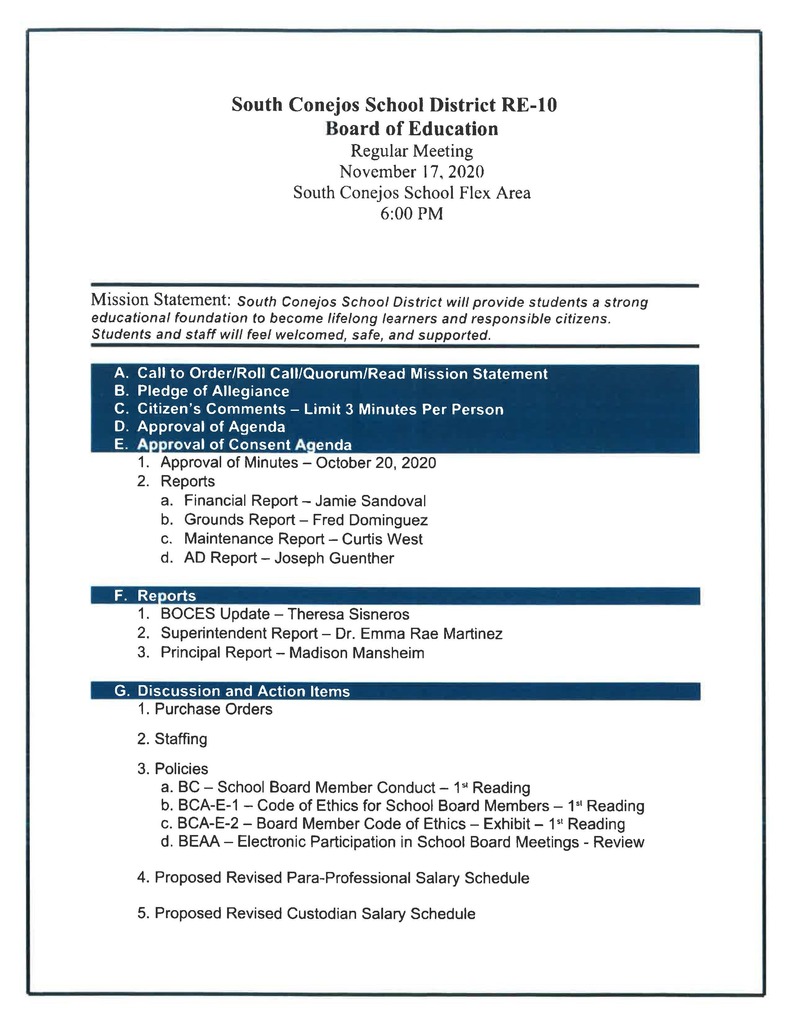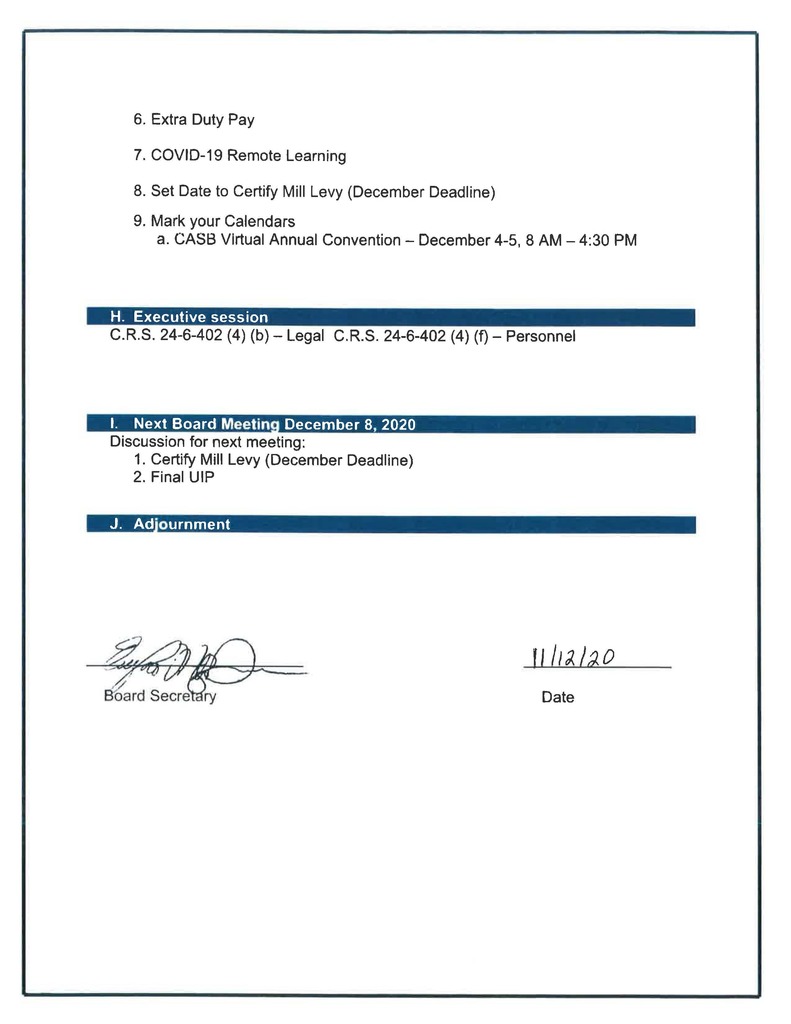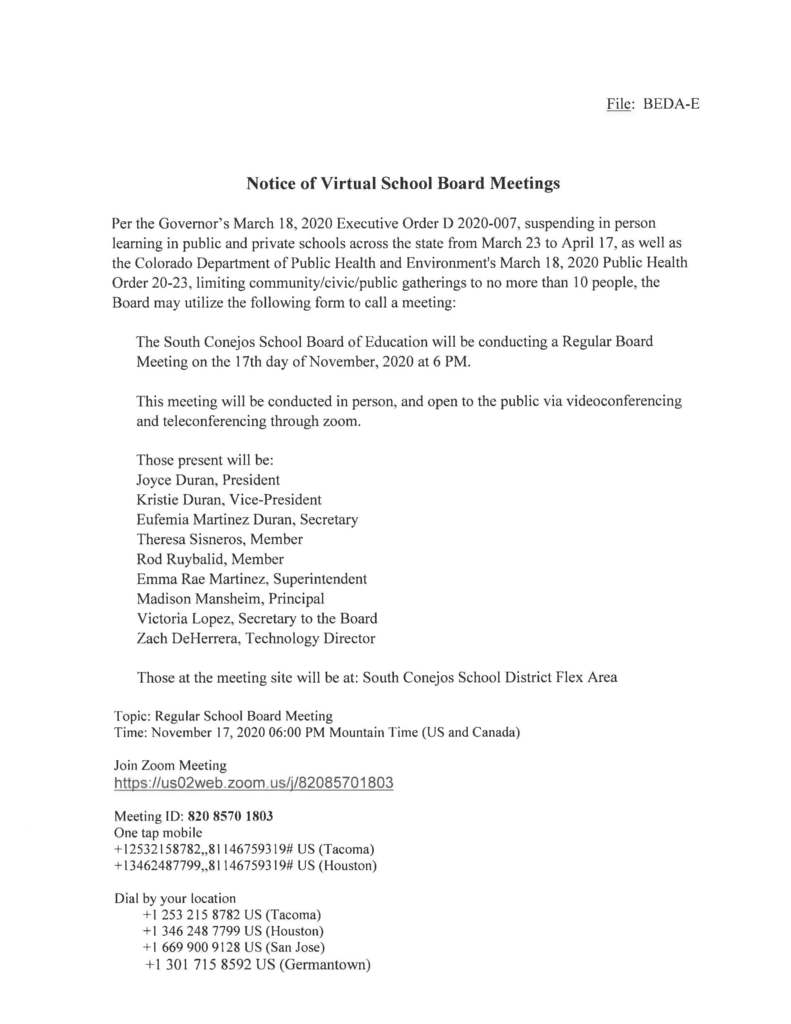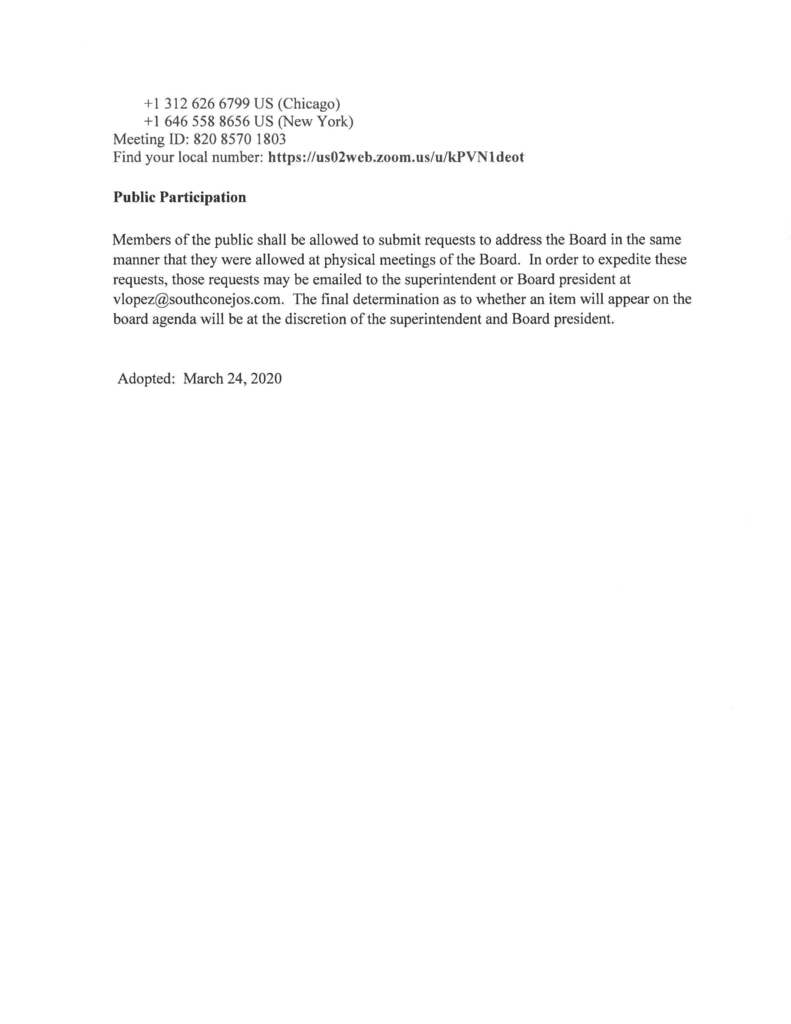 Good Evening Trojans, K-12 in-person learning will resume this Monday, November 16th. While we have not had any positive cases in the district, we do want to continue to encourage families to quarantine and notify the district if there are any positive cases within the household. We want to thank all the families who have notified the district and taken safety precautions. If we do have a positive case, we will notify the school community and take the necessary steps to ensure everyone's wellbeing as outlined by our Public Health Department. I want to wish everyone a relaxing weekend and remember, mask up!

Adams State University Free Community-Wide Covid-19 Testing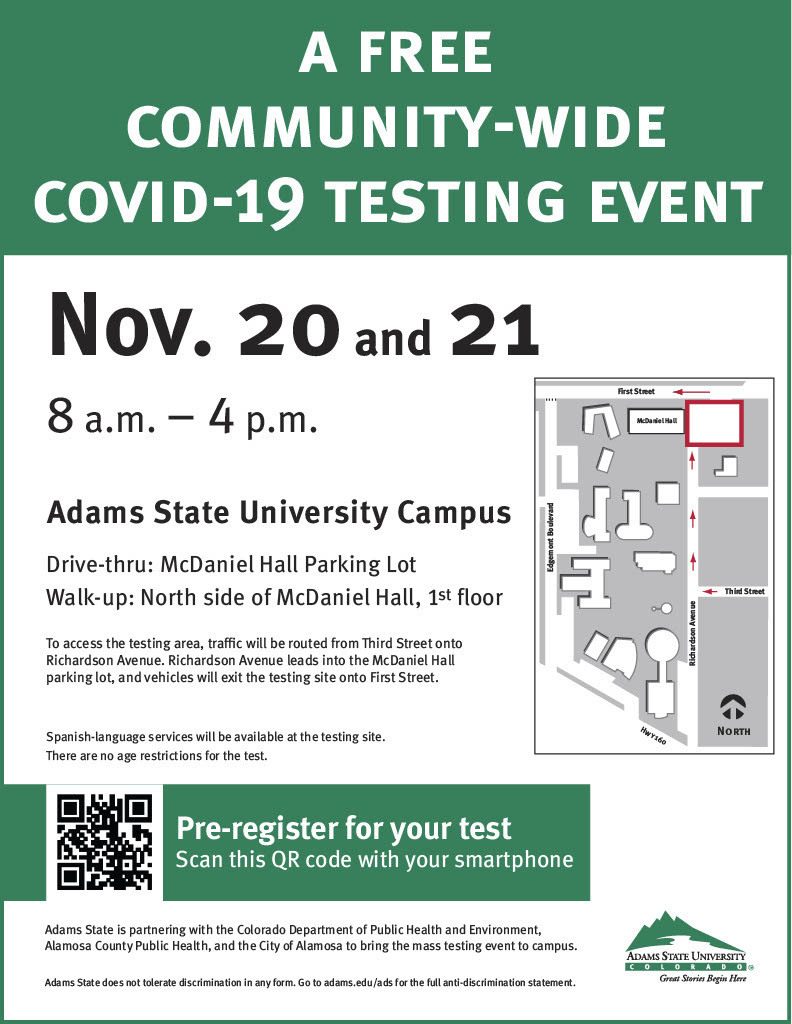 Elementary families please make sure to send your students back to school with their laptops and chargers in the morning!

Good Morning Trojans, Elementary students will resume in-person classes tomorrow, November 10th. Middle school and high school students will continue remote learning for the remainder of this week and return to in-person learning on November 16th. Though we have not had any positive cases in our district, we have had several staff members quarantining out of caution and this has made it difficult for staffing our secondary. We appreciate all of our families as we navigate the best ways to continue learning this year while keeping everyone safe & healthy.

For families needing to know how to login to Canvas - please visit
www.southconejos.com
and see the directions for Canvas Access under the NEWS tab. Elementary teachers will post Zooming schedules by 9:00 am. Middle school & high school students will be starting class by 8:19 am and zoom links posted prior to class. Middle school & high school students will not have the following Zoom classes: CREW, PE, Achieve3000, or electives.

Good Afternoon Trojan Families, Due to a possible exposure of COVID-19 to a staff member, we will be going to remote learning for November 5th and November 9th. Students will be sent home with their laptops and books. Students will receive instructions from their teachers on Canvas or through their school email on how/when to Zoom in. Open gym & weight lifting are cancelled for the time being. We ask that any staff members or students who are showing symptoms to notify the school district. We will know more information by Monday and will keep all families updated on further closures or return to school. Thank you for your patience and understanding as we all do our part to keep our community safe.
HALLOWEEN TRUNK OR TREAT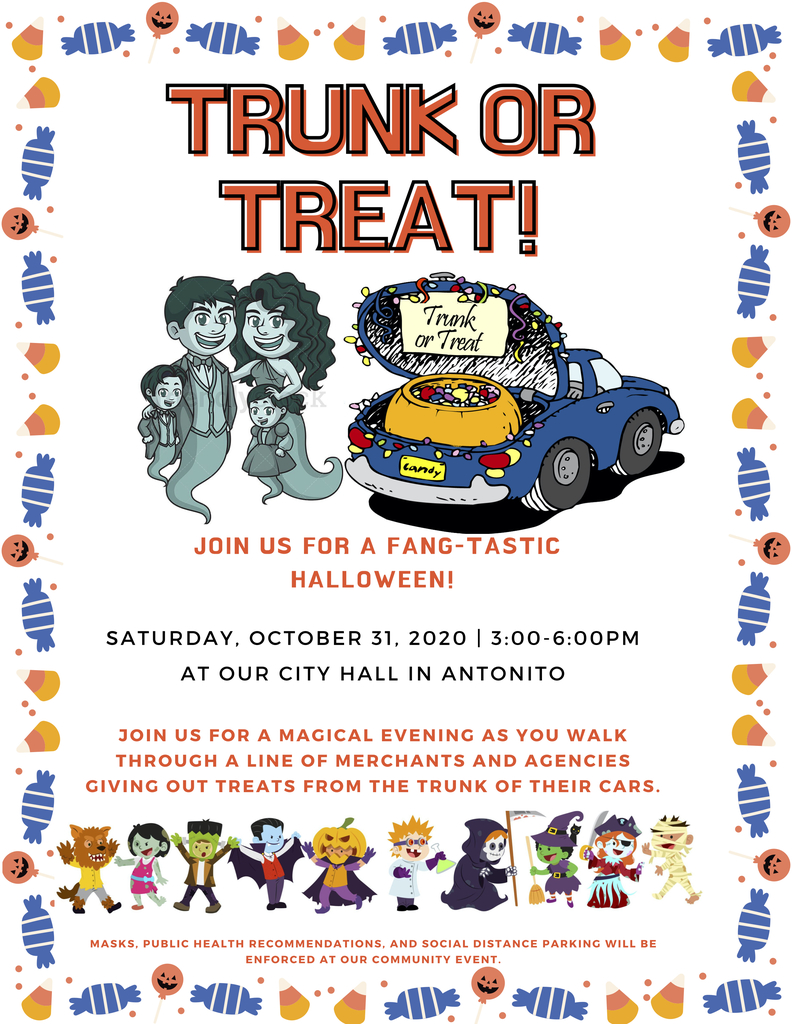 Amendment B Factual Summary for SCSD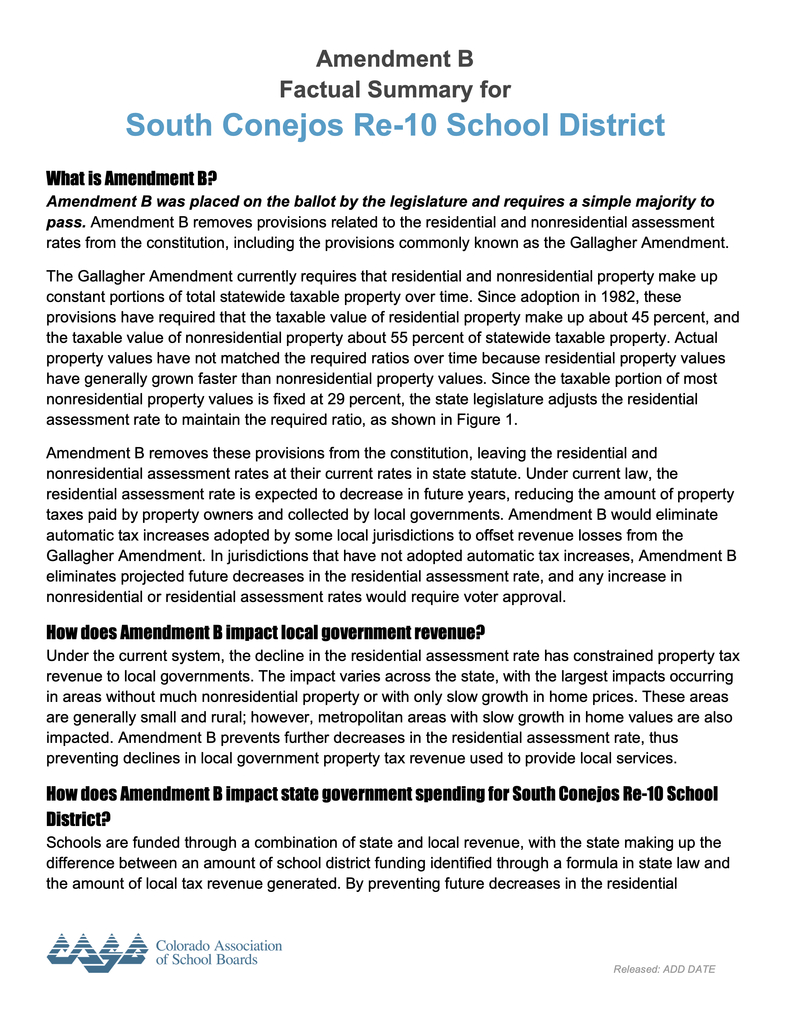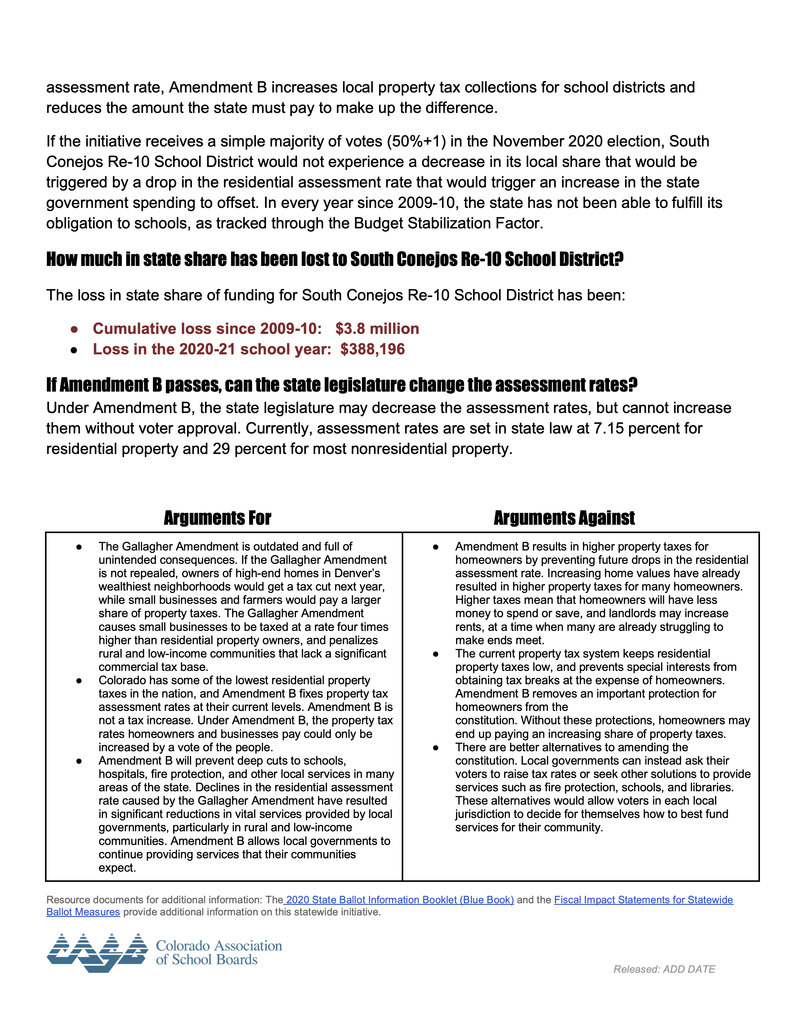 This is an update on school today due to weather conditions. South Conejos will be going to remote learning today. We ask all students to check their Canvas accounts for assignments from their teachers starting at 11:00 am. This is available at southconejos.instructure.com. All elementary students login for Canvas is their email and the password Gmail123. For students without access at home, they will make up this work at a later time. Please stay safe and warm today!

Good morning Trojans. Due to weather, we will have a two hour delayed start this morning. Staff will arrive at 9:30 am. Student drop-off will be from 9:35 to 10:00 am. Please drive safe and bundle up!

All staff and students please join us this week for Red Ribbon Week! Red Ribbon Week is an alcohol, tobacco, and other drug and violence prevention awareness campaign observed annually in October in the United States. Monday: Wake Up Drug Free- Pajama Day Tuesday: Peace Out Drugs- Tie Dye Day Wednesday: Put a Cap on Drugs: Hat Day Thursday: Team up against Drugs: Sports Team Day OR Halloween Costume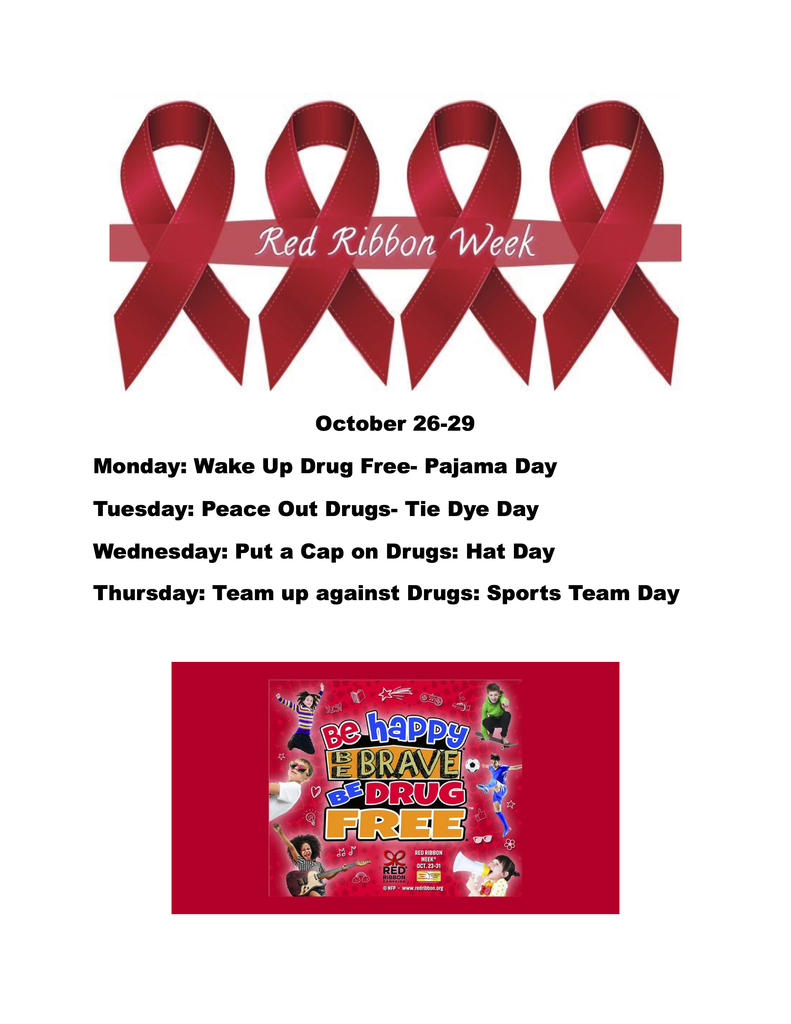 The South Conejos School Board of Education Special Board Meeting scheduled the 23rd day of October 2020, at 9 AM has been canceled.

The Healthy Kids Colorado survey will be completed by the middle school and high school students on Thursday November 12, 2020.



Good afternoon high school families. This is a reminder that high school classes start at 7:55. Any student who is not in their CREW class at this time will be marked tardy or absent. Thank you!