Tune in to our live feed tonight starting at 5:00 pm to cheer on the last varsity basketball game for our Trojans of the 2021 season! This years seniors for the men's team is: #4 Josh Duran #22 William (Memo) Silvas #3 Nathan Sisneros-Padilla #2 Joshua (Joshy) Lucero Women's Team: #11 Maya Garcia #5 Angel Trujillo
Game Day! Antonito will be taking on Creede tonight! Girls start at 5pm with the boys game starting at approximately 6:30pm. If you are not on the gate list for in person viewing, we will be streaming via Facebook live as well. Go Trojans!

Our middle school student, Antonio Velasquez, wrote this podcast called "Thank a Farmer" for the NPR Student Podcast Challenge! Check out his awesome work! Produced by Junior, Shanell Lujan, and sponsored by teacher, Brenda Tolian.
https://soundcloud.com/shanell-lujan/thank-a-farmer

PTO Meeting March 4th at 4:15 pm.

This is a reminder that school dismisses at 2:00 pm today and we hope to hear from families at conferences! Have a great Trojan day!
Want to buy a 2020-2021 yearbook? Go to
https://ybpay.lifetouch.com
and enter the ID Code 14308521. Enter your name, then enter your status (student, staff, other.) Order before the deadline March 23, 2021. Price: $25 each (you can order more than one).
Trojan Family! The high school varsity basketball teams will be traveling to Sargent today, 2/24. Boys will play at 5:00 pm and Girls will play after at approximately 6:30pm. Due to the last minute scheduling of the game, we have decided to not allow in person fans. However, the game will be streamed through Sargent Athletics Facebook page. We will also be attempting to stream through the South Conejos Facebook page as well.
The Varsity Basketball Girls would like to thank Boxcar Espresso and Ice Cream Shop for sponsoring them and buying them warm up shirts!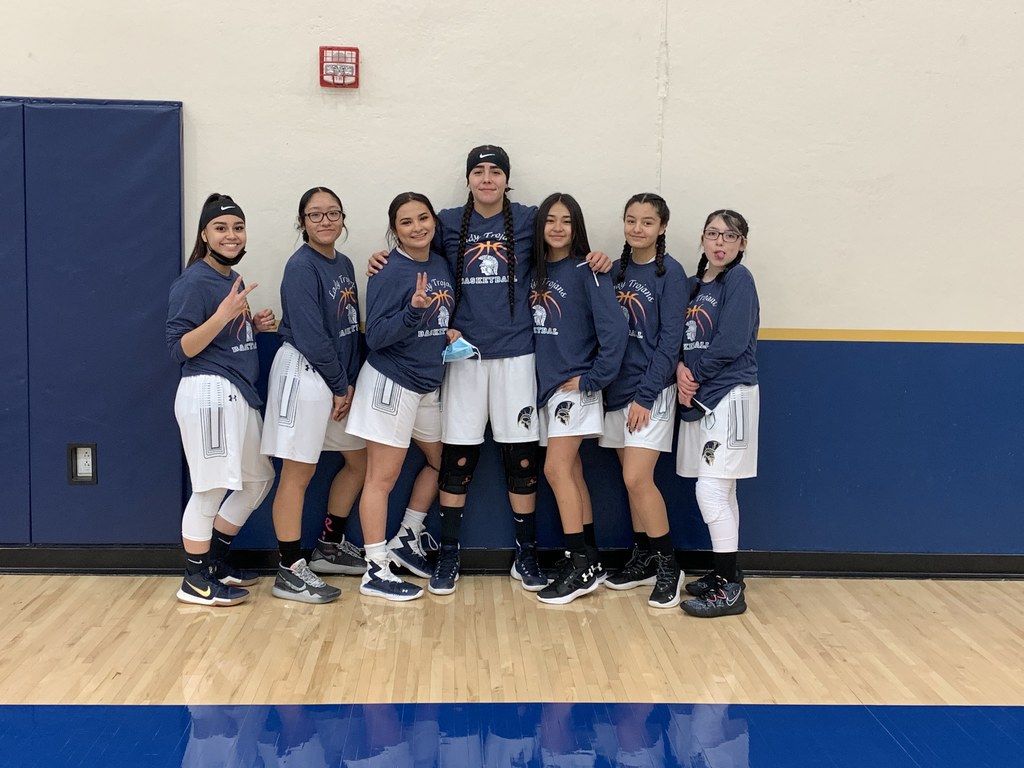 Game Day! Trojan Girls Basketball will kick off at 3:00pm. Doors will open at 2:30. If you are not joining us in person, we will be live streaming on our facebook page.
Hello Families, Conejos Public Health is currently offering free COVID-19 Moderna Vaccinations to the parents and guardians of South Conejos School District in the school parking lot until 2 PM.

Good Morning Trojan Families, Due to poor road conditions, we will have a two hour delay. Classes will start at 10:00 am. Drop off will be from 9:30 to 10:00. The bus route will begin at 9:00 am, but please be advised that they may take longer than usual. Travel safely Trojans!

Good Evening Trojan Families, We will be having virtual parent teacher conferences on February 25th from 2:00 to 5:30. Students have been sent home with a sign up sheet. If you need a new sign up sheet, please contact the front office. We will also have early dismissal that day at 2:00 pm.

Conejos Public Health will have a drive thru free Covid-19 Moderna Vaccination clinic on February 19th from 10:00 am to 2:00 pm at South Conejos School District. This is available for all Coloradans ages 65 and up, educators/school personnel, health care workers, and first responders. For more information, please see our website under live feed or go to our district's Facebook page.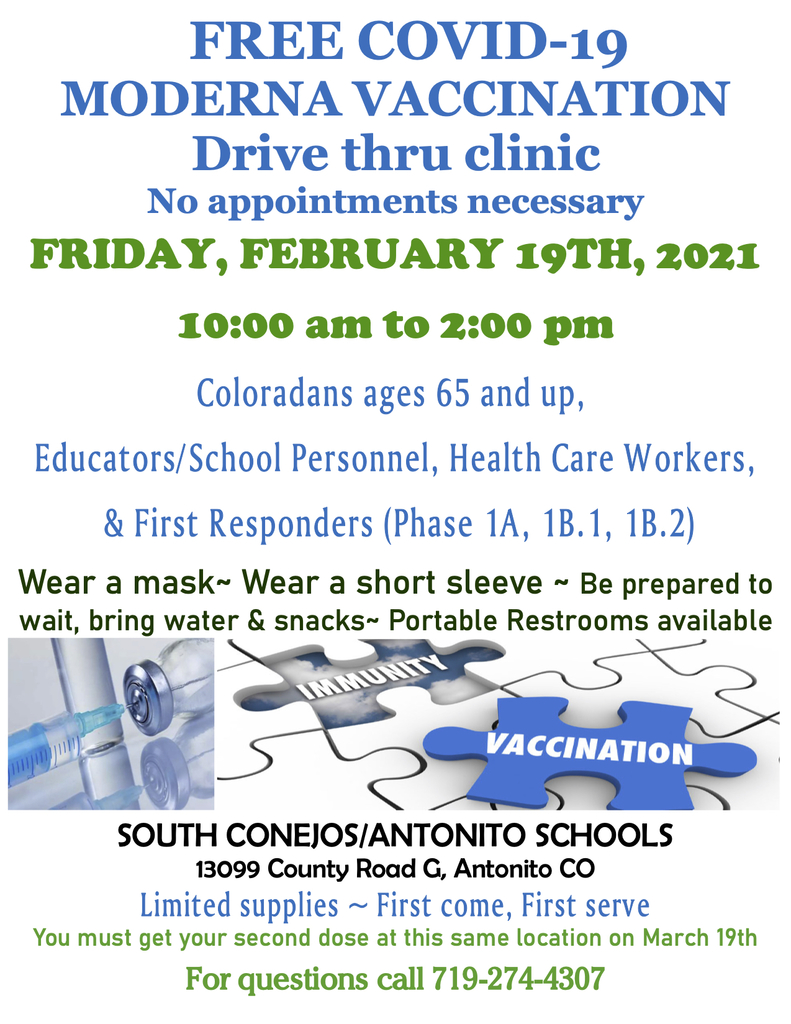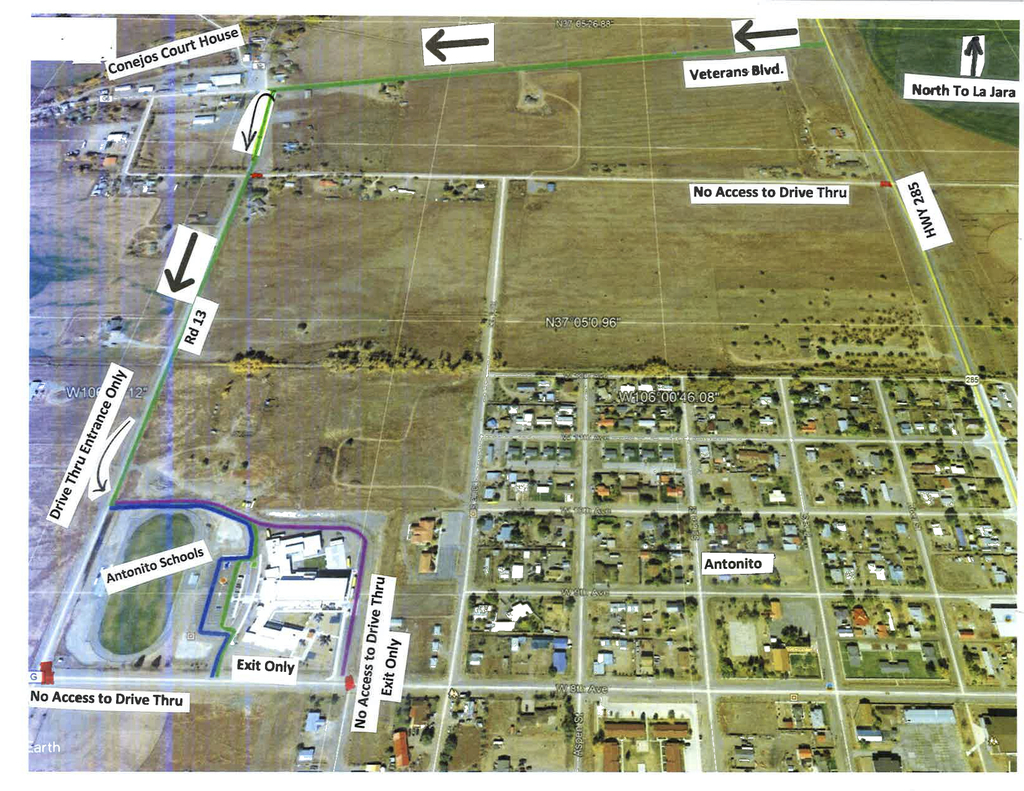 The South Conejos School Board of Education will be conducting a Regular Board Meeting on the 16th day of February 2021, at 6 PM. This meeting will be conducted in-person and open to the public via videoconferencing and teleconferencing through zoom. Join Zoom Meeting:
https://us02web.zoom.us/j/82085701803
Meeting ID: 820 8570 1803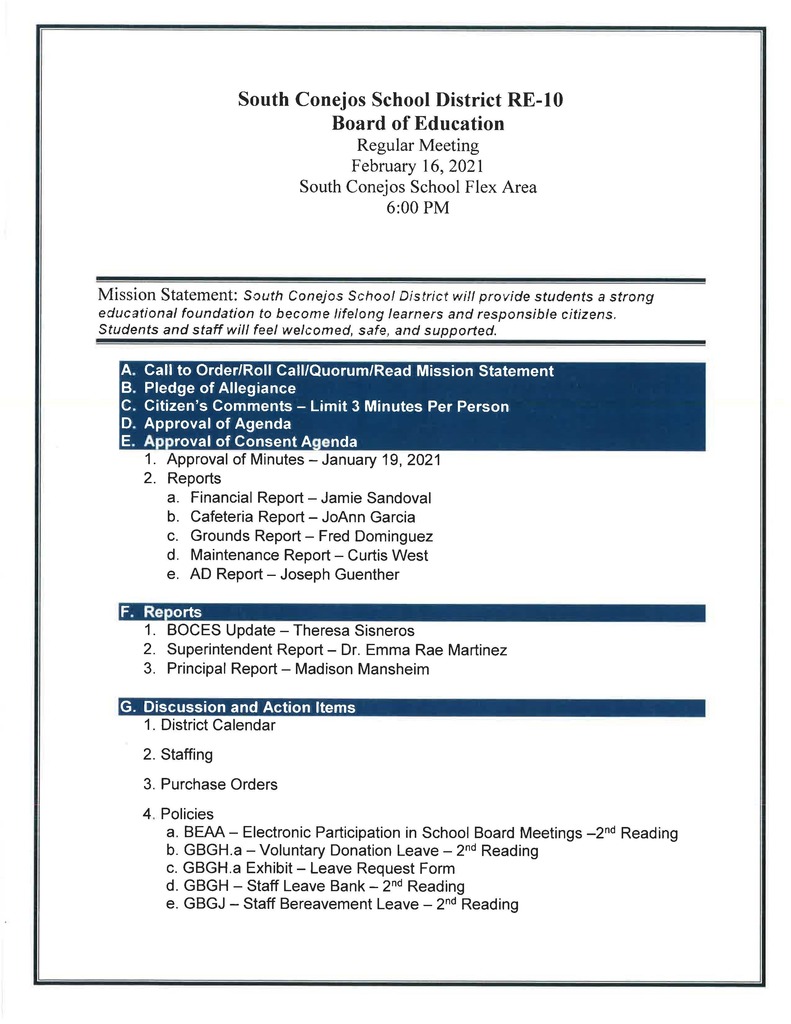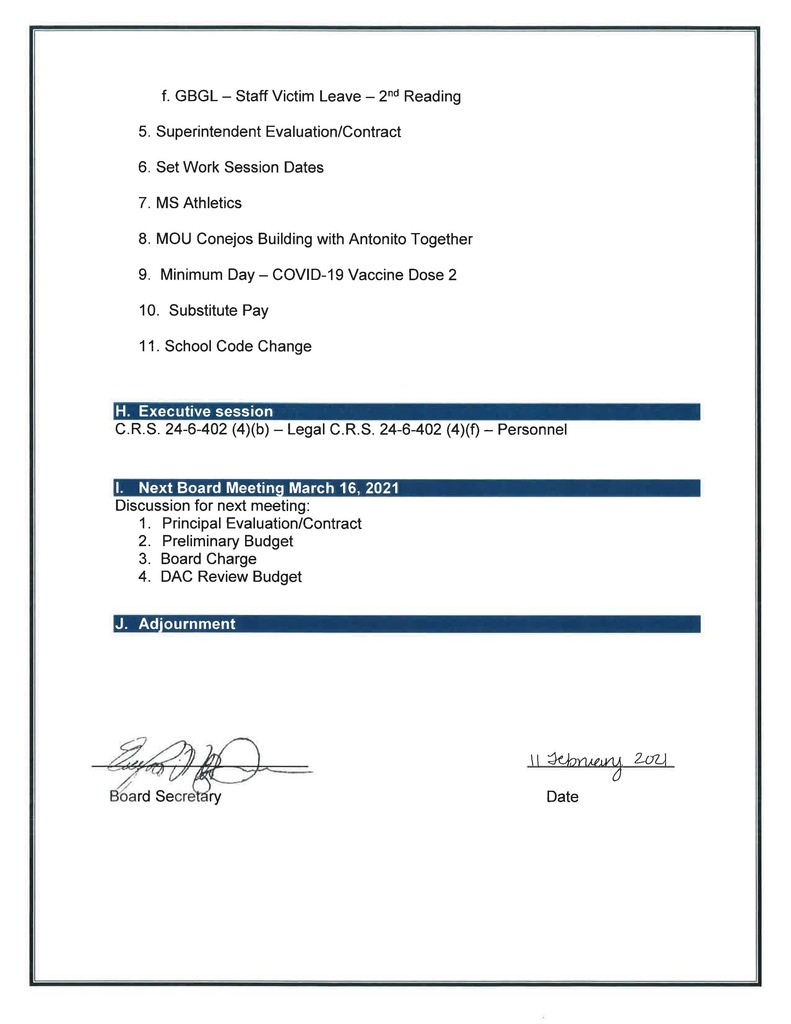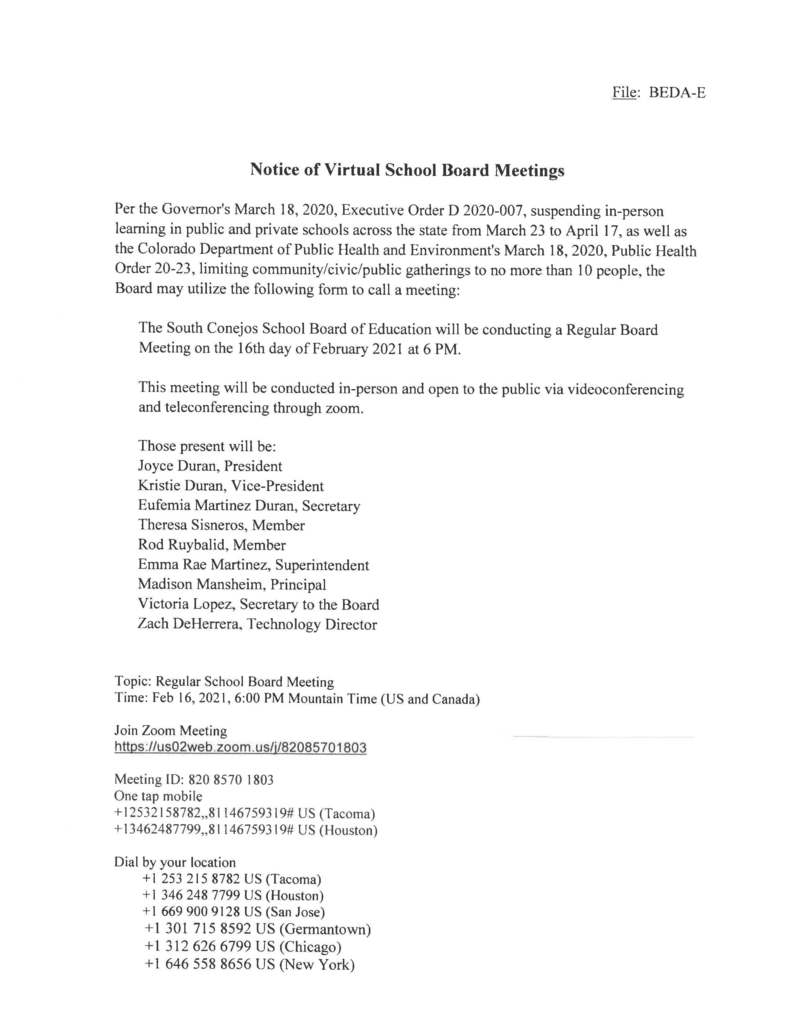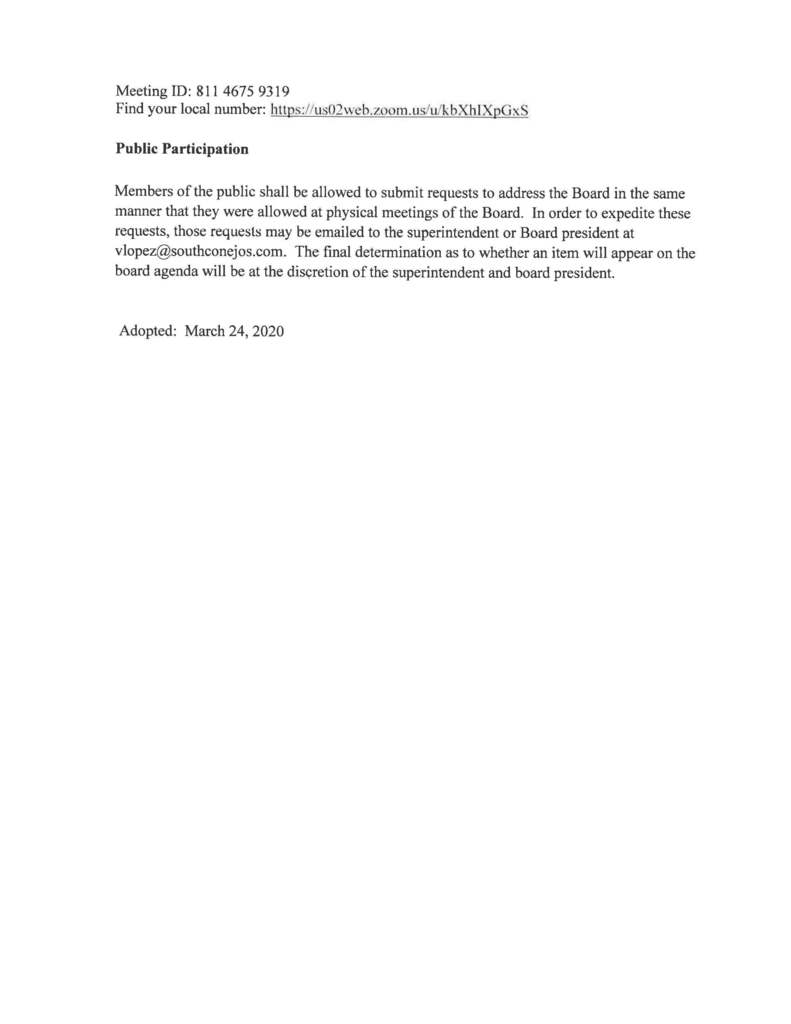 Good Evening Trojan Families, South Conejos School District will not have school on Monday February 15th for President's Day. We want to wish everyone a happy Valentine's Day and a wonderful long weekend!
Attention Trojan Family, The varsity girls and boys basketball teams are traveling to Sangre de Cristo this Friday, 2/12. The girls game will start at 5:00pm with the boys game to follow after. For spectators who have been given a ticket by a player, please remember that those tickets are for either the girls game or the boys game only and that admission will be $5.00, there will be no change given. Doors will open for spectators for the girls game at 4:45pm and around 6:30pm for the boys game. For those without tickets, We will be streaming the game via Facebook live for you to view. Go Trojans!

The South Conejos School Board of Education will be conducting a Regular Board Meeting on the 16th day of February 2021 at 6 PM. This meeting will be conducted in-person and open to the public via videoconferencing and teleconferencing through zoom. Join Zoom Meeting:
https://us02web.zoom.us/j/82085701803
Meeting ID: 820 8570 1803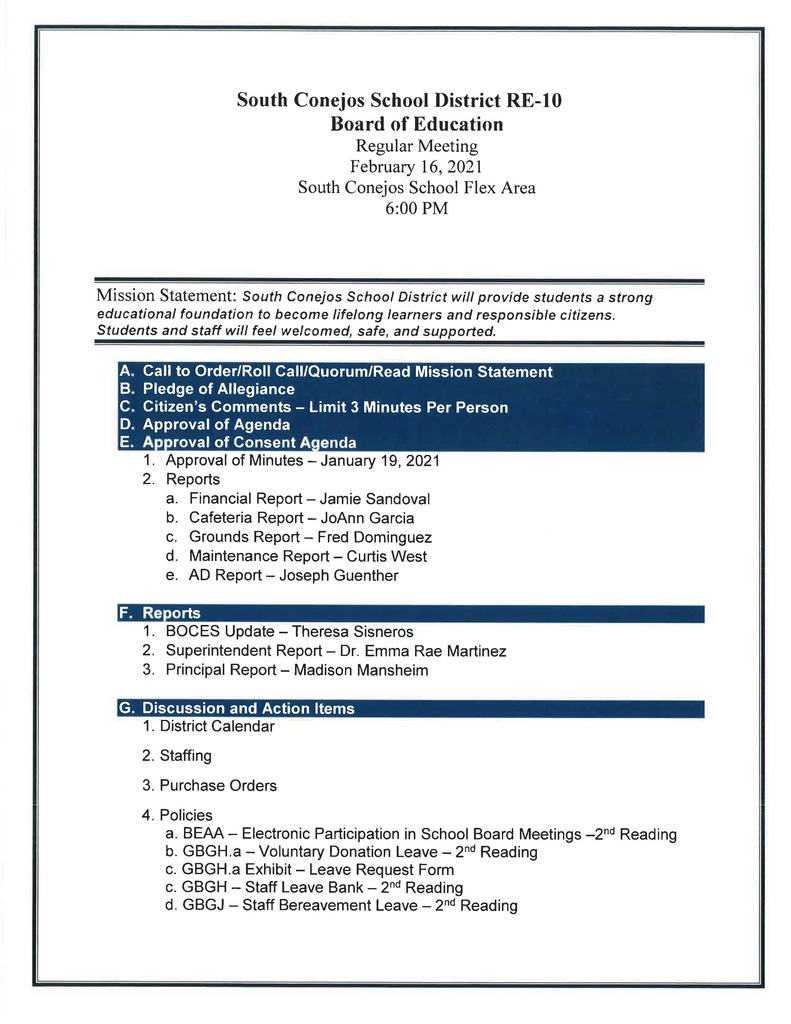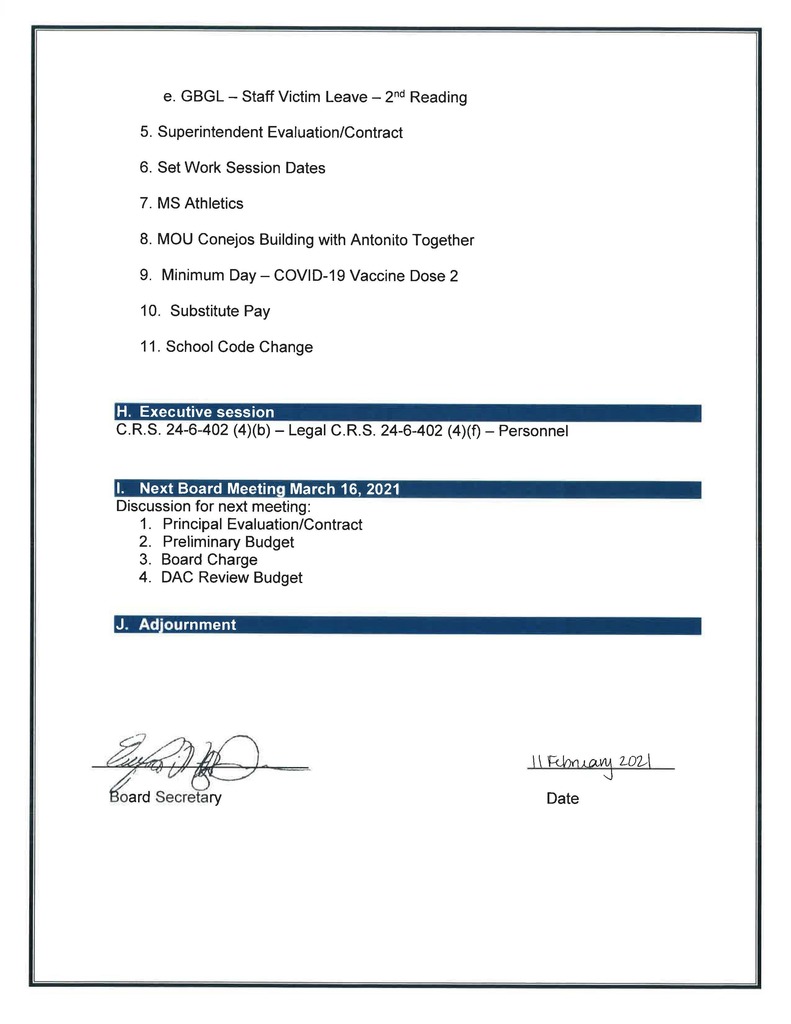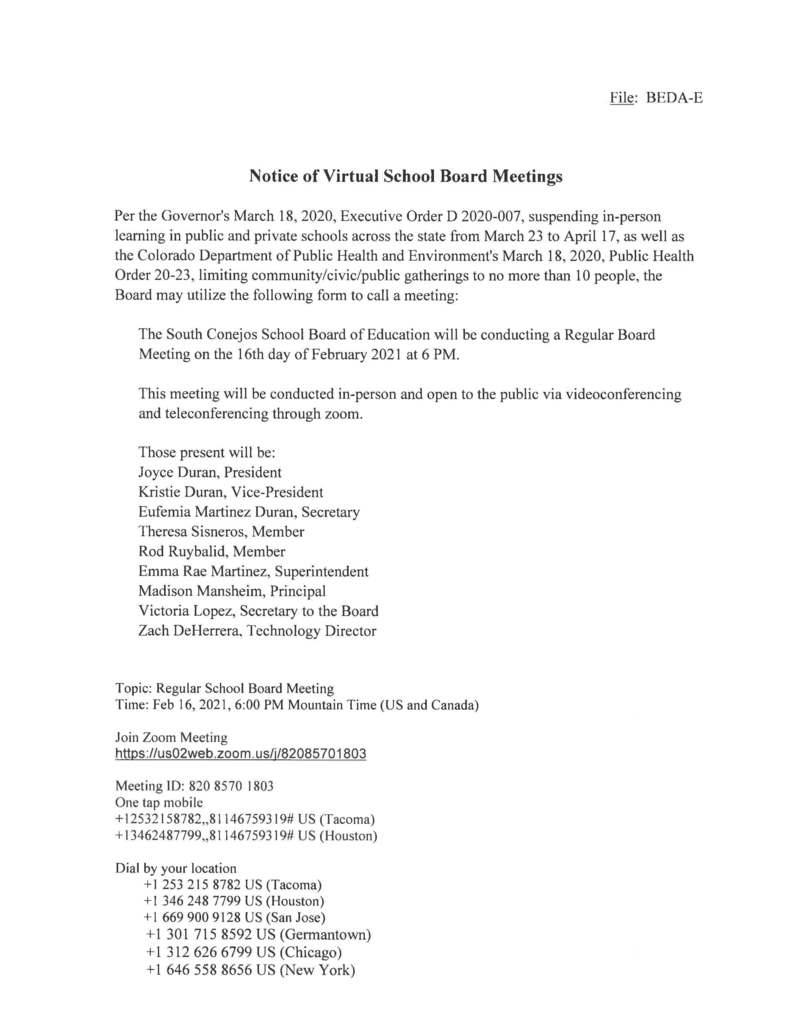 PUBLIC NOTICE: The South Conejos School Board of Education will be conducting a work session on the 9th day of February, 2021 at 6 PM. This work session will be held in person and open to the public via Zoom. Work sessions are not open for citizen's comments. Join Zoom Meeting:
https://us02web.zoom.us/j/82085701803
Meeting ID: 820 8570 1803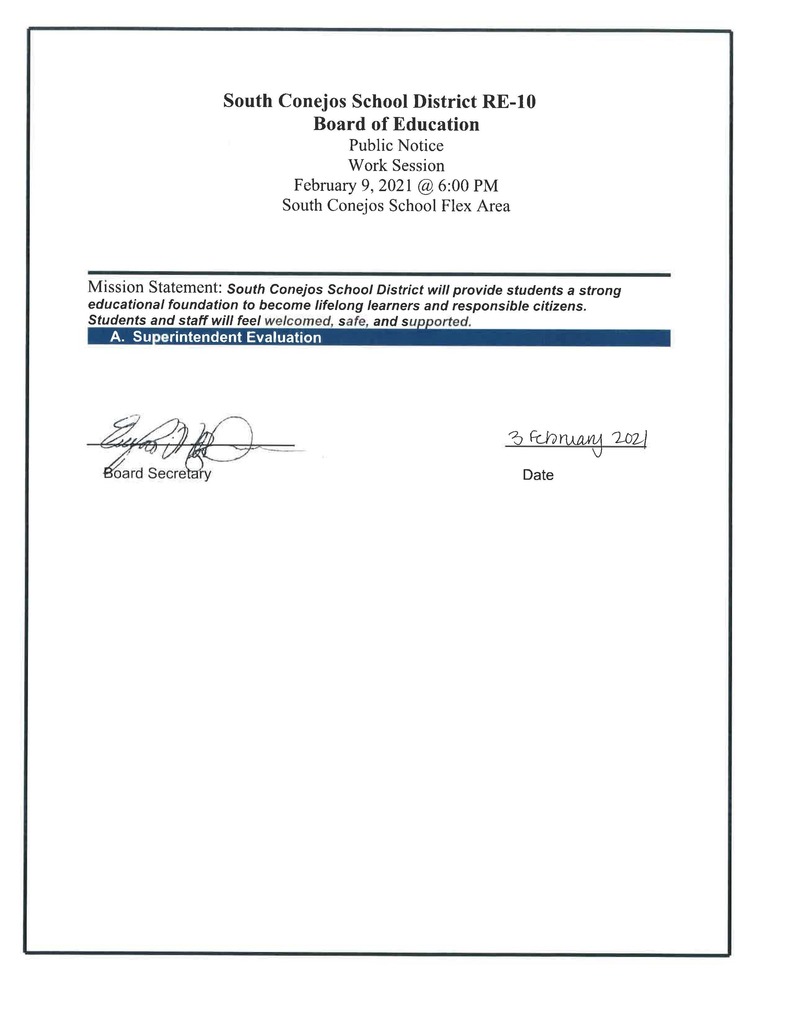 Antonito Basketball Home Game Protocols THERE WILL BE NO CONCESSIONS SOLD Fans: Players will be given 2 tickets to give out to spectators of their choice. Fans will be required to present their ticket to the admission table to enter the gym. If you do not have a ticket, you will not be allowed to view the game in person Admission will be $5 for all spectators, NO CHANGE, Please bring exact amount. All spectators will be required to wear masks in the gym and sit 6 feet away from other ticket holders of a different group. Spectators for the same student are asked to stay together to allow adequate spacing among different groups. In between girls and boys games, spectators will be asked to clear out of the gym as quickly as possible so the gym can be sanitized. We will have a zero tolerance policy for any and all obscene or unruly behaviors during the game, any offenders will be asked to leave the school grounds immediately. Home Team: All players will be screened and temperature taken when they arrive at the school. Players must arrive and leave in a mask. Any players showing symptoms of COVID-19 are asked to please stay home Hand sanitizing stations will be provided on the sideline. During halftime the team is allowed to use the home locker room. Away Team: Screening will be the responsibility of the opposing team before arriving at Antonito. We will need verbal verification. Players must arrive and leave in masks. Hand sanitizing stations will be provided on the sideline. Visiting teams will be responsible for bringing their own drinks and food. There will be no concessions sold. During halftime the team is allowed to use the visiting locker room. Visiting boys/girls waiting to play will occupy a classroom and be able to watch the game via live stream. Media: Game will be live streamed via zoom Link:
https://us02web.zoom.us/j/7462854023